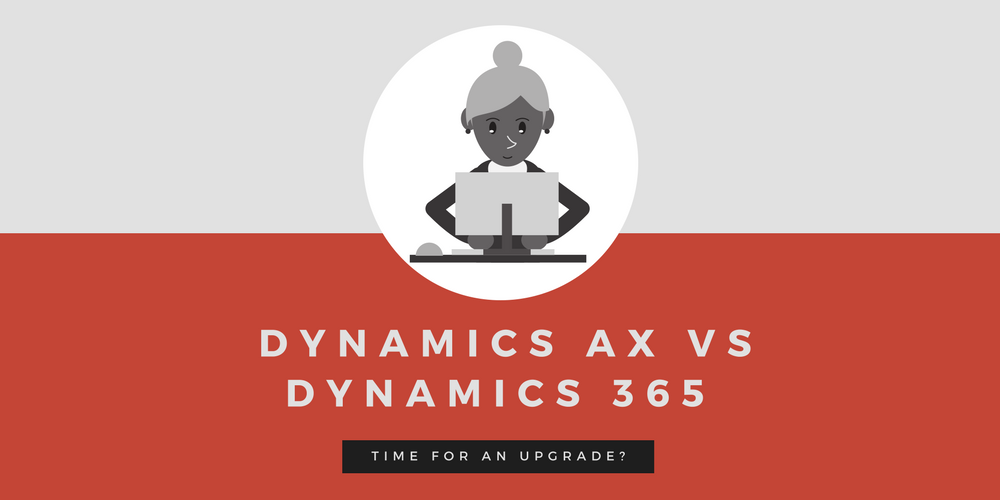 Dynamics AX has a lot in common with new kid on the block Dynamics 365, but are they really the same?

If you've arrived at this page, you're probably either a current Dynamics AX user considering a switch to Dynamics 365, and wondering if it's really worth the effort.
Making changes to your business software, even if it's just a case of upgrading to a new version, can be a challenge.
We're going to take a look at how Dynamics 365 compares to its predecessor, Dynamics AX 2012, so you can decide whether or not it's time to make a move.
Dynamics AX vs Dynamics 365: what's the difference?
First released in 2002, Dynamics AX is one of several ERP solutions in the Microsoft Dynamics family. Primarily used by midsize-to-large enterprise businesses, Dynamics AX is a feature-rich resource planning solution used to manage operations such as finances, manufacturing, distribution, and HR.
The most recent version of Dynamics AX, codenamed Dynamics AX7 pre-release, was launched in late 2016 as Dynamics 365 for Operations, and became the primary ERP arm of the brand new Dynamics 365 suite of apps. It later underwent another name change, becoming Dynamics 365 for Finance and Operations in July 2017.
The original Dynamics AX name has now been officially retired, and Dynamics AX is no longer available to new customers. Existing AX customers are still able to purchase additional licenses, but these are subject to the new Dynamics 365 licensing model.
So, is Dynamics 365 for Finance and Operations just Dynamics AX with a new paint job? According to Adam Sandman, Director of software testing and management firm Inflectra, there's a little more to it than that.
"The main differentiator is that Dynamics 365 is a completely web- and cloud-based solution, whereas AX is primarily a desktop-based application, with some web and mobile add-on components.
"The new version provides a cloud-based ERP solution that can be used everywhere without the large infrastructure footprint of AX; on-premise or hosted by partners. It also has tight integration with other parts of the Dynamics 365 family, such as CRM, so you get an end-to-end business solution containing ERP and CRM. With AX you had to use Dynamics CRM separately, which was not really integrated."
Adam Sandman
Want the inside scoop on the Dynamics industry?
Nigel Frank International's annual Microsoft Dynamics salary survey report examines salaries, benefits, skills, motivations, sentiments, and movements across the global Microsoft Dynamics partner, ISV, and Microsoft Dynamics customer communities.
What's new in Dynamics 365 for Finance and Operations?
The differences between Dynamics 365 for Finance and Operations and Dynamics AX are much more significant than just a name change. Though it continues to offer much of the same functionality as its forebears, Finance and Operations is quite a different beast when you look under the hood. Let's take a look at a few of the significant back-end changes the platform has undergone.
Web-based log in
There are a couple of big changes that users are likely to spot immediately; deployment, and interface. All Dynamics 365 apps are browser-based, so you no longer need to load up a program on your computer to access it. Simply head to a web browser, and you're in. This new login procedure is also a boon on the accessibility and mobility front, meaning the app can be accessed and run from almost any device, so long as it has internet access.
New interface
Finance and Operations also looks a lot different to its forerunners, having undergone a major facelift since AX 2012. The sleek new design is aimed at improving user experience, and encouraging collaboration with other users. The interface is also customizable, with each user able to personalize their homepage with custom colors and default start pages.
More integrations
Being a cloud-first platform, Dynamics 365 also has the potential for extensive integration with other platforms. Dynamics 365 for Finance and Operations integrates seamlessly with other Microsoft cloud products such as Office 365, PowerBI, and Dynamics CRM apps.
Improved business intelligence
With access to artificial intelligence-powered analytical services, and more-comprehensive sets of business data, Dynamics 365 massively outstrips previous versions of AX in terms of reporting and business intelligence.
More frequent updates
With a cloud-based instance, there's no need to wait for a new version to be released to get the latest features and updates. New developments and fixes are rolled out frequently to Finance and Operations, and all you need to do is accept them, with no time-consuming individual machine updates to deal with.
More flexibility
Dynamics 365's new licensing model not only means users can save money on user and device licenses, but the improved flexibility of the pricing model opens the door for more businesses to utilize Dynamics' capabilities.
How do the features compare?
Based heavily on previous incarnations of Dynamics AX, Finance and Operations features all the finance, retail, procurement, supply chain management, production, and HR functionality of its predecessors.
Many of these existing features have been updated and improved in the new Dynamics 365 version, and it has already benefited from the addition of new tricks since its initial release. Here are just a few new features you can expect to see in Dynamics 365.
Introduction of Workspaces
Role Centers have now been replaced by Workspaces, which allow multiple aspects and features of F&O to be used simultaneously via a customizable dashboard. These Workspaces simplify the user experience, and help make even new or inexperienced users more productive by allowing them to filter datasets without SQL knowledge. New view features enable users to add, move or hide fields in their Workspace, and also share views with other users.
Improved search
F&O's global search feature makes it easier to find the information you need, no matter where it is in the system.
Inventory balance overviews
Users can get a quick overview of their inventory balance, work in progress inventory balances, and annual inflow and outflow through the cost administration workspace. These balances are updated automatically every 24 hours, and can also be updated manually if needed.
Embedded BI reports
With Dynamics 365, it's possible to create and embed highly-intuitive business intelligence reports and visualizations into the Finance and Operations interface.
Increased integration with Excel
Integration with Excel enables users to utilize spreadsheets to enter, update or delete demand forecasts from within the Finance and Operations interface. Users are also able to export account structures to Excel.
Mass financial period closure
In F&O, users can update and change the period status for multiple company records simultaneously.
Performance monitoring
By connecting Finance and Operations, users will be able to generate robust, customizable financial and retail channel health reports from their Dynamics 365 data in just a few clicks.
Easier access to budget information
New inquiry pages will enable users to get access to budgetary information more efficiently. Pages such as Budget control statistic summary, Budget register entries, and Budget plans allow users to find all budget maintenance and monitoring tasks in a single workspace.
Vendor purchase order confirmation
Through the self-service vendor portal, users will be able to send purchase orders for approval, and let the vendor confirm or reject. Vendors will also be able to get an overview of all the confirmed purchase orders for their account through the portal, meaning less paperwork for your purchasing department, and fewer misunderstandings between customer and vendor.
What's coming up?
Dynamics 365 is frequently updated, meaning users can expect new features to be rolled out on a regular basis. With the Dynamics 365 team working continuously to improve its capabilities and add in extra proficiencies, there are always new developments on the horizon. Some new functionalities expected soon include:
Integrated retail workforce management
In a future release, users will be able to manage their workforce more efficiently, as well as give their employees greater control over their own time management, enabling a more empowered workforce, and lower operational costs.
Features for managers will include the ability to create and publish schedules for workers, annotate shifts with instructions, replicate plans from week to week, and view, approve or reject absence and shift swap requests. Store associates will be able to view schedules and instructions, and submit requests.
Project management integration
Users will be able to connect their Project Service Automation app with Finance and Operations, and synchronize their project and resource management data with their project accounting. This means information such as projects, contracts, contract lines, contract line milestones, actuals, estimates/forecasts, tasks, expense categories, expense reports, billing, and purchase orders will be shared between the apps, giving users access to the data they need to oversee their accounts better.
Shipment confirmation
This feature will facilitate the acceptance or blocking of shipments carrying fewer quantities than initially ordered. It can also be configured to enable accepted under-deliveries to be curtailed from the load automatically.
Retail layout designer improvements
Users will be able to amend and configure POS button grids, screen layouts, and receipt templates with new layout designer tools. The new designer will allow users to switch between layout edits without having to save, and reopen the designer.
Benefit enrollment
Companies will soon be able to offer employees a guided, self-service experience to help them enroll for benefits. These enrollment tracks can be customized depending on the individual needs of the organization and its employees.
Pallet management
A new feature is being developed to allow users to transfer inventory between pallets to organize inventory more efficiently for distribution while satisfying any individual client needs regarding pallet height.
Integration with LinkedIn
Closer integration between Dynamics 365 for Talent and LinkedIn will allow HR departments to incorporate information from an employee's LinkedIn profile into their own company profile and records. Data will sync to reflect any new information added to LinkedIn, ensuring records remain up to date.
Workflow enhancements
Improvements to workflows will enable users to utilize workflows for hiring, transferring and terminating employees. Comments added during the workflow process will be added to the workflow view, allows users to see all necessary information when completing actions.
How does licensing and pricing differ?
The licensing model for Dynamics 365 strays slightly from its antecedents', and features updated price points. Dynamics 365's licensing structure is more flexible, enabling customers to pick and choose functionalities.
The number of license levels has also been reduced. Where Dynamics AX offered four different license levels depending on the access required, Dynamics 365's ERP apps have only three, plus a dedicated license for devices.
Like the old model, under the new licensing model each level offers differing degrees of access, though the titles and access levels have changed:
Full Users receive full access to all features and functions
Operations Activity users can perform transactional tasks but cannot access all features.
Team Members can enter information such as timesheets and expenses, execute underlying processes, and share knowledge.
While there is no exact mapping between the two license groups, they can roughly be equated as follows:
| | |
| --- | --- |
| Dynamics AX 2012 and earlier | Dynamics 365 |
| Enterprise User | Full User |
| Functional | Full User or Operations Activity, depending on role |
| Task User | Operations Activity or Team Member, depending on role |
| Self-Service User | Team Member |
There is also an option to license devices, which enables users to access the Finance and Operations or Retail applications through a shared device.
Dynamics 365 for Finance and Operations is not available to purchase a standalone app, and must be licensed as part of one of two plans; either the Dynamics 365 Plan, which bundles ERP and CRM functionality together, or the Unified Operations Plan, which features only ERP apps.
Dynamics 365 Plans
Plan
Includes
Full User
Operations Activity
Operations Devices
Team Member
Dynamics 365 Plan
Finance and Operations
Retail
Talent
Sales
Customer Service
Project Service Automation
Field Service
Microsoft Social Engagement
PowerApps
$210
$50
$75
$8
Unified Operations Plan
Finance and Operations
Retail
Talent
PowerApps
$190
$50
$75
$8
When will support for Dynamics AX end?
It's not only the cost and the functionality that users should take into account when considering a switch. With Microsoft focusing its attention on Dynamics 365, older versions of Dynamics products will inevitably be left behind.
Microsoft has now announced end dates for Dynamics AX support, with mainstream, non-paid support for AX's most recent version scheduled to cease in late 2021.
Once mainstream support ends, new features, fixes, and security updates will no longer be issued. After this time, Dynamics AX customers can opt to purchase a plan to gain access to extended support, up until the date that extended support also expires. This usually costs between $100,000 and $150,000 per year.
| | | |
| --- | --- | --- |
| Version | Mainstream Support End Date | Extended Support End Date |
| Dynamics AX 2012 | 9th October 2018 | 12th October 2021 |
| Dynamics AX 2012 R2 | 9th October 2018 | 12th October 2021 |
| Dynamics AX 2012 R3 | 12th October 2021 | 10th January 2023 |
Here's what's included in each level of support:
Mainstream support
Paid support (per incident, per hour, and others)
Security update support
Non-security hotfix support
No-charge incident support
Warranty claims
Design changes and feature requests
Product-specific information that is available by using the online Microsoft Knowledge Base
Product-specific information that is available by using the Support site at Microsoft
Help and Support to find answers to technical questions
Extended support
Paid support (per incident, per hour, and others)
Security update support
Non-security hotfix support (requires extended hotfix agreement, purchased within 90 days of mainstream support ending.)
Product-specific information that is available by using the online Microsoft Knowledge Base
Product-specific information that is available by using the Support site at Microsoft
Help and Support to find answers to technical questions
Can I get Dynamics 365 on-premise?
Yes, it is possible to deploy Dynamics 365 on-premise. If you're an AX on-premise user, there is no requirement to upgrade to a cloud-based instance of Dynamics 365, as Dynamics 365 can now be deployed both locally and online.
However, there are certain features and services that are not available to on-premise users. Currently, Dynamics 365 for Retail, one of the suite's major ERP apps, is not available for on-premise deployment, on-premise users will also be unable to access such features as:
Azure cognitive services
Automatic updates
Customer insights
Microsoft Office, Sharepoint, and Delve integration
Data export
Field service
Gamification
Online backup and restore
Threat management
Power BI integration
There will always be those companies for whom, due to the nature of their business, data regulations, or other compliance issues, the cloud just isn't a viable option right now. For everyone else, however, the cloud is the new standard, and it's not going anywhere. All new software developments will be built on cloud technology, so by opting to remain on-premise, businesses are merely delaying the inevitable. Utilizing cloud technology now means future-proofing your organization.
How do I switch to Dynamics 365 from Dynamics AX?
To switch to a cloud-based instance of Dynamics 365, AX users can transition their current licenses to the new platform. Customers that have an active maintenance plan can obtain a 40% discount on cloud-hosted Dynamics 365 pricing.
Those users with Software Assurance can stop their current maintenance payments once they hit their renewal date, and move to the cloud service. Alternatively, the Cloud Add-on service allows customers to continue with their maintenance plan, while adding Dynamics 365 license on top whenever they choose.
You may even be able to keep some of your customizations; for users of Dynamics AX 2012 R3, Microsoft provides a tool to help ensure your code is compliant with your new Dynamics 365 environment.
Making the switch can be relatively painless, so long as users lay the groundwork, and have the right support throughout the move.
"We've had clients who are making the switch," said Sandman, who has extensive experience in helping users test and manage their software. "They're finding it manageable with partners assisting them. They've had to do a lot of migration and testing to ensure all their business rules translate across."
Sandman's top tips for making the switch?
"Do a test deployment of one location or department, make sure you have a business rule capture, testing, and verification approach in place first. Switch to the test site, perform rigorous testing and compare the results."
Adam Sandman
"Make sure you have all of your business requirements and use cases fully documented. Ideally, have a set of regression tests documented, and have an automation tool in place that can test the various transactions in both AX and Dynamics 365 to make sure that you are getting equivalent behavior."
Should I switch to Dynamics 365 from Dynamics AX?
Of course, whether or not switching at this time is the right move for your business will depend on many aspects of your current circumstances. According to Sandman, you should think carefully about the regulation surrounding your data before you make the move.
"Some of the main factors will be around whether you are comfortable with a Microsoft Azure-hosted platform for running your business. You give up a lot of control when you do this, which is required for Dynamics 365 as opposed to AX.
"It reduces your support and maintenance costs, but it locks you into the Microsoft cloud. For customers with stringent data privacy requirements or security needs, it might not be possible to switch."
Given Microsoft's cloud-first, mobile-first vision, however, there's a good chance that AX's days are numbered.
"Since Microsoft is most likely going to make AX obsolete, at some point you will have to switch."
Adam Sandman
With extended support for AX scheduled to end in the next five years, many businesses may choose to migrate to Dynamics 365 rather than continue to use a product cast aside by its vendor. In the meantime though, Sandman speculates, some users may be drawn to Dynamics 365 due to the additional functionality, as business software continues to develop at whirlwind speeds: "[Whether or not you should switch] will depend on whether you have high-availability needs that your current AX infrastructure is unable to support.
"If you need to access AX on a greater range of devices — Mac, mobile devices, etc. — or if you want to enable access from outside your organization to suppliers, partners, and vendors, the switch will provide positive ROI."
We've summed up the key points from this post into a handy infographic:
Need a helping hand to make your move to Dynamics 365?
Browse our bank of pre-screened, qualified Dynamics 365 professionals for free today, and find the experience you need to make your switch a success.