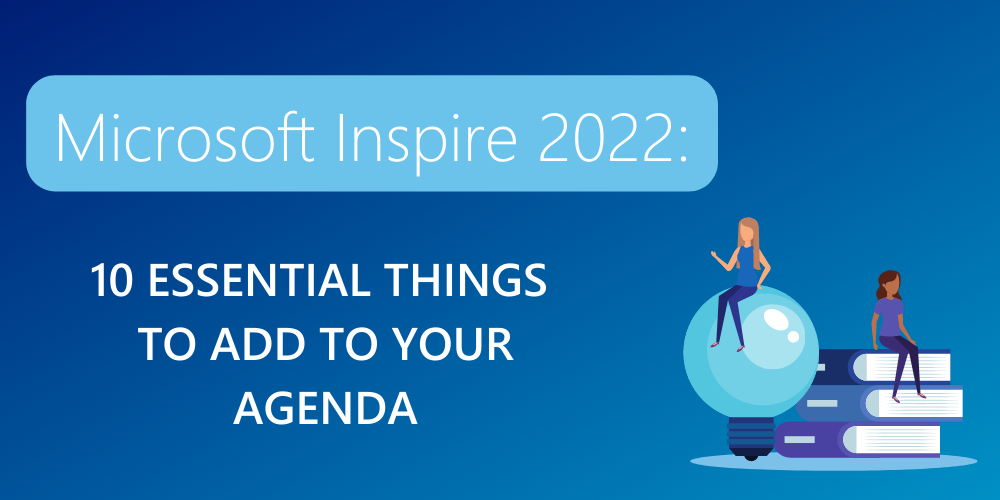 Microsoft's biggest and best partner event is returning on July 19-20th 2022 and promises to be just as action-packed and information-filled as ever. 
Microsoft Inspire is renowned for helping partners get the most out of their business and as the name suggests, to inspire them to reach their goals and define their next steps towards success within the ecosystem. And with a fantastic line-up of keynote speakers from leadership positions within the Microsoft community, there is always a lot to take away from the Inspire conferences.  
But with such a busy event schedule ahead, it's always best to pre-plan to ensure you're not missing out on any important keynotes and theme or breakout sessions that you want to be part of.  
In this blog, we'll be highlighting ten essential things you should be preparing or adding to your agenda ahead of this year's Microsoft Inspire 2022 conference, no matter what you're looking to get out of it.
1. Check that any accessibility requirements you need are in place
Before you attend this year's Inspire conference, it's important that you check any accessibility requirements you might need are supplied. When you're not viewing something in person and relying on technology, things can sometimes be a little less clear-cut for those with accessibility issues.  
You can find out more about the standard accommodations for attendees, including audio and keyboard support on the accessibility page. And if you need any further information about the accessibility provisions for this event, send an email to eventaccess@microsoft.com.
2. Explore the key themes and create your event schedule
Central to any Microsoft Inspire event are the key themes that dictate what the senior leaders will focus on within the sessions, sharing new innovations, priorities, and opportunities within these spheres. This year, there are five key themes for you to explore—all of which seek to address common pain points within the industry and help us to adapt our new way of working post-pandemic. The themes for this year include: 
Drive growth and profitability with a partner-focused platform

 

Power innovation through modernization and migration across the digital estate

 

The digital imperative in hybrid work

 

Helping customers streamline their security across clouds and platforms

 

Scaling your solutions to help customers in every industry transform

 
You can explore the sessions that make up each of these themes on the Microsoft Inspire website. This should help you create a two-day schedule that is optimized to suit your business requirements and goals, so make sure you spend some time this week preparing an event calendar to suit you. 
3. Tune in to keynotes from leaders and experts
This year's Microsoft Inspire conference is set to be a huge one in terms of speakers, meaning as a partner you'll be spoilt for choice. Of course, all the keynote speakers are extremely knowledgeable and experienced in the ecosystem and will be worth listening to, but if you're short of time or have clashing commitments, there are a few Microsoft Inspire headlining keynotes you definitely don't want to miss. 
From Microsoft's own Chairman and CEO, Satya Nadella, to Corporate Vice President of Security, Compliance and Identity, Vasu Jakkal and Corporate Vice President for Data, AI and MR, Jessica Hawk, you're sure to want to hear from some of the biggest names in the ecosystem. 
For the full list of speakers, check out the speaker directory.
4. Learn how to drive diversity and inclusion within your business
One hot topic within the industry at the moment is that of equity, diversity, and inclusion. This has grown from an understanding that those from different backgrounds can not only offer fresh perspectives, but also drive innovation—plus research published in the Academy of Management journal has found that diverse teams are more productive.  
This is particularly important to the Gen Z and Millennial age demographics, which make up a substantial proportion of the current global workforce. So, make sure you are tuning in to the session 'Drive business value and improve experiences with disability inclusion' which is hosted by a panel of influential speakers from a range of accessibility roles and organizations.  
For more information on improving diversity within your teams, check out our handy blogs on diversity practices within the Dynamics and Azure ecosystems.
5. Discover how hybrid work is shaping our future
It's no secret that the pandemic introduced far more flexible ways of working as the standard—with our Nigel Frank Careers and Hiring Guide: Microsoft 365 and Azure 2021-22 revealing that 38% of Microsoft end users would consider leaving their job for another role if homeworking was offered, with another 22% saying the same if flexible working hours were included as part of a company's perks. 
But how will this impact the Microsoft ecosystem? Well, as you have probably already experienced, there are new challenges to contend with. Whether that's meant you've had to introduce a new communication channel, rely on cloud products and services more readily, or have had to change your employee perks, you're sure to have been affected in some way by this new way of working. 
So perhaps it's unsurprising that this will be one of the hot topics delivered through sessions during this year's Inspire conference. If you're looking to learn more about how your business can contend with the novel challenges and opportunities hybrid and flexible work gives, make sure you tune into Angela Byers and Seth Patton's breakout session: 'Enable digital employee experience with Microsoft Viva' and participate in the associated Ask the Expert session to get even more guidance.  
Want to prepare a few questions beforehand? Our blogs on the future of work for Azure teams and Dynamics teams are sure to help get your brain ticking.
6. Network with other attendees
The Inspire conference is the largest partner event in the world, and you need to take advantage of the networking opportunities that come with this.  
While the face-to-face element of networking is often the best part, Microsoft has been keen to give partners as much chance of networking as possible. While you're likely to see and hear from your peers during Q&A sessions, it's always a good idea to get to know them more personally.  
Start by building out your attendee profile to ensure other partners know what your specialisms are and what part of the ecosystem you work in or have had experience in. Once you've done that, you can go ahead and create a contact list based on the other attendees you'd be interested in speaking to and set up meetings to get to know one another—plus find plenty of other ways to strengthen your connections across the Microsoft ecosystem.
7. Take advantage of the Connection Zone
After listening to so many insightful keynotes and theme sessions, you're bound to have some questions about what you've heard—or about something to do with your own business that you'd like to get advice on. And the Connection Zone presents a great opportunity for both live networking and getting the answers you need to any of your questions in anything from Ask the Expert sessions, to Table Topics and Local Connections.  
The topics covered range from eliminating data governance gaps, to next gen data modernization with Azure, and plenty more. So, you're sure to find a session that piques your interest and can add value to your business by attending.  
Not only will you benefit from getting your own queries answered, but with 115,000 registrants from 190 countries last year, you'll benefit from hearing and learning from the pain points of other partners which can be transferable knowledge for your own business.
8. Celebrate the winners of 2022 Partner of the Year Award
Inspire isn't just a conference for learning, but also one of celebration with Microsoft's Partner of the Year award winners and finalists being highlighted during the two-day conference. These awards shine a light on the achievements and contributions of partners from over 100 countries, and include categories such as partner competencies, entrepreneurial spirit, and social impact—so you're sure to find some inspiration from the work of these legendary professionals.  
The Microsoft website has a ton of useful advice and resources for you to utilize. So, whether you want to see the full list of this year's finalists, get expert advice from the award judges, learn how to create an award-winning entry or get step-by-step instructions on how to submit your nomination for next year, you can find it all on their Inspire Awards page.
9. Explore the Featured Partners showcase
Microsoft Featured Partners are the best of the best. With an expansive set of specialisms between them, there's plenty to learn from the showcase. You can check out inspiring partner stories of successful digital transformations, resilience, and growth during these unprecedented times, which can hopefully give you the hope and drive you need to persevere even through slower business periods. 
The Featured Partner directory can also provide you with inspiration for both programs and offers to help you create new opportunities for your customers, so it's well worth utilizing the Microsoft Inspire event to expand your partner network and learn from your peers. 
10. Enjoy yourself
Although you're no doubt attending Microsoft Inspire for the second-to-none learning experience, don't forget that this is a great opportunity to break away from the usual 9-5 and to get really stuck in with the magic of Microsoft.  
From gaining inspiration for your current and future projects, to hearing from some of the most knowledgeable figures in the ecosystem, to networking with peers and helping each other out, there's so much to be enjoyed during the Microsoft Inspire 2022 event, so make the most of it! 
This year's Microsoft Inspire conference is sure to be one to remember and getting prepared with our guide can help ensure you get as much out of it as possible.  
Are you a partner looking for Microsoft professionals?
We have more choice than any other agency and many candidates ready to start immediately.