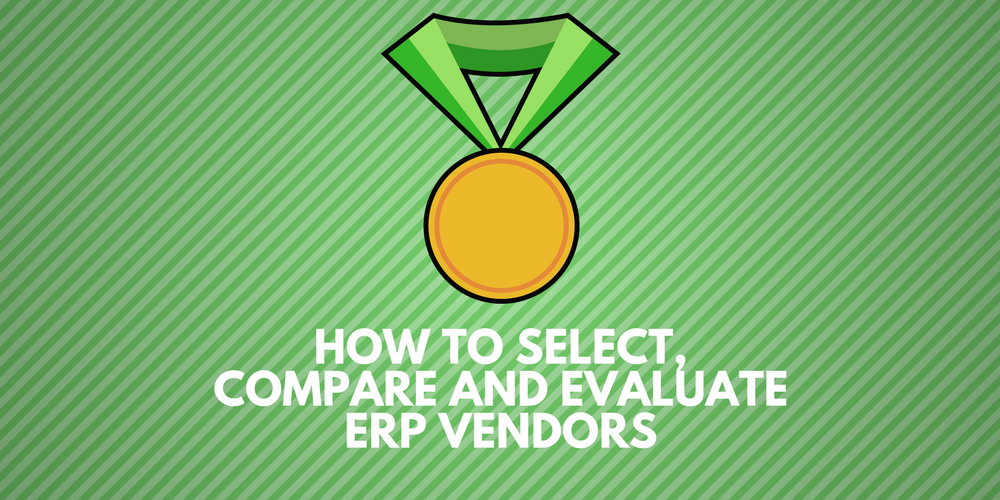 If you've decided that implementing an ERP could benefit your business, congratulations — you're over the first hurdle.
When you're suddenly faced with sorting through the hundreds of ERP solutions currently on the market to find the right one for you, however, that second hurdle can seem significantly higher.
By operating all of your core business processes from one solution, an ERP can make life significantly easier, but it also means added pressure to choose the right one. When you're putting all your eggs in one basket, you need to make sure that basket is up to the job.
Luckily, you can make the ERP vendor selection process a little simpler with our practical, five-step guide. We've even included a free, customizable checklist for ERP vendor evaluation criteria to help you find the right match, and an infographic which summarizes the main posts of this blog.
Determine your requirements
Before you can start the ERP vendor selection process in earnest, you need to evaluate the way you work now. Thinking about your current business processes will help you work out exactly where your new ERP system will fit in and, in turn, what functionality you need to carry out your day-to-day operations.
The idea at this stage is to build a clear picture of how your business currently operates, and how those operations could be improved.
A typical ERP will feature an array of functions, including:
Financial management
Human resources/capital management
Purchasing
Inventory management
Supply Chain Management
Customer relationship management
Business intelligence and reporting
You may not require all of these features; individual requirements will depend heavily on your business type, and while many ERPs feature facilities for the manufacturing or distribution industries, there are ERPs for just about any business type. Due to extensive variety of specialist ERPs on the market, it's important to drill down and work out exactly what you'll need to run your business today, as well as what you may need in the future.
An ERP will potentially be used by many different departments — from accounting and HR, to sales and shipping — so you should to speak to each wing of your business and find out their thoughts on your current processes. Ask your teams how they feel they could work more efficiently, if there are any issues with your current workflow that need to be resolved, and which features they feel they could get the most out of in the future. After all, they will be the ones working with the ERP system every day, and a system can only benefit its users if they fully embrace it.
It might also help to map out a typical transaction within your company by tracking a product or service through its lifecycle — whether that begins with manufacturing a product, issuing a quote, or receiving a delivery, you can follow that path through quality assurance, picking, distribution, issuing an invoice, collecting payment, and offering customer support.
If you need an ERP that can handle your Human Capital Management, chart a similar journey through your business for an employee. Look carefully at every stage of an employee's journey with your company, and think about what you'd need from an ERP to facilitate that process. Take the very first step a potential employee would take in joining your business; applying for a role. Do you want an ERP that can help you find, manage and assess candidates?
How about once they're part of your team? Do you want an ERP that will be able to automate certain HR functions, like time management and scheduling? Do you need a hub for employee development, or extensive self-services to help employees manage their own personal administration?
Financial management is another key factor to consider when assessing your ERP needs. Accounting and closing, budgeting, auditing, billing, cash flow management, and reporting are all crucial parts of ensuring a business remains profitable, so a careful appraisal of the financial tools used by your organization is paramount.
Need talented professionals to help you execute your digital transformation vision?
Browse the best candidates in your own time, on your own terms with our free Candidate Search.
Establish your vendor selection criteria
Now you've thought about what you need from an ERP, and determined the problems you want to solve, you can create a yardstick against which all potential ERPs can be measured.
Think back to the departmental goals you established earlier; what features will you need to achieve those ambitions? Visualize what the ideal ERP for your business will look like, and use this to draw up a hypothetical product specification.
Some features are naturally going to be more vital to the growth of your business than others. Which will have the biggest impact on the business, and which are essentials, as opposed to nice-to-haves? Creating a ranking system to assign weight to each function will help you prioritize what's important when it comes to comparing ERP vendors later on.
Of course, creating a dream spec doesn't mean you should expect any product to fit it perfectly. It's unlikely that you'll find an ERP solution that meets all of those requirements out of the box, but it's good to set a bar so that you know where any contender should be pitching.
Once you have an outline of what you'd like your new ERP solution to do, you also need to consider the nuts and bolts of the product; how it's delivered, how it's accessed, how it can grow when you need more from it.
Take into account factors such as:

Deployment — do you want a solution that's based in the cloud or on your own servers in-house?
Scalability — are you likely to need to expand your use of the solution in the future? Will that mean more users, or more capabilities?
Implementation — do you have a timeframe in mind for the solution to go live?
Integrations — do you have any current software that you'd like to continue using alongside your ERP? Are there any particular integrations you'd like to be able to support in the future, such as third-party add ons, or augmented reality headsets?
Accessibility — does your new ERP need to have a mobile app? Do you want to be able to access the solution in the field? Does it need to support a BYOD system?
Customization — are you likely to want to add customization to your solution? Do you plan to develop your own add ons and apps for your ERP?
Support and recovery — how much support are you likely to need, both in implementing the solution and maintaining it? How would you prefer to access support from your vendor? Are you happy to engage with them remotely, or would you prefer a vendor who is local to you?
Training — will you need a vendor who provides training for the new system's users, or are you happy to train them in-house?
Outline a budget and timescale
You know what you want, now it's time to work out how much you're willing and/or able to spend to get it.
With so many ERPs on the market, you're almost certain to find out within your price range, but it's also important not to get too caught up in up-front costs. An ERP system is an investment in your business, and should provide significant return if implemented and used correctly.
When working out a budget for your new ERP system, bear in mind potential costs outside of purchasing the software itself.
If you're considering an ERP that's based on-premise, you'll need factor in the hardware outlay, and ongoing maintenance required to be able run your system in-house. These include:
Hardware — will you need to purchase additional servers or networking equipment to house your ERP solution?
Utilities — will this hardware have to consume more power to run the ERP?
Staff — will you need professionals in-house to implement and maintain the hardware? Do you have space for them in your current location?
Maintenance — if you don't have the skills to upkeep your hardware and software internally, will you need to use contractors or outside services to help keep things ticking over?
If you're opting for a cloud-based solution, the above factors are negated, however, you will need to review whether you have a reliable-enough internet connection, and sufficient bandwidth, to accommodate multiple users working in the cloud.
Things such as data migration, training, and customization will need to be addressed whichever deployment route you go down. In addition, rolling out a new system can take up a lot of your staff's time, so allow for the fact that productivity might take a hit at first.
Speaking of implementation time, it's also a good idea to have an outline for when you'd like the ERP solution to go live. Bear in mind, it's not unusual for implementations to take years, depending on the size of your business, how much legacy data you want to transfer over, and if you have any customizations to complete. But implementation is a marathon, not a sprint, and it's vital that everything is put in place and rigorously tested before launch.
When you're relying on one system to run all your day-to-day operations, you need to make sure that everything is working as it should be before you go live, or you could face serious consequences. Just ask Hershey's.
In 1999 confectionery giant Hershey's selected a new ERP system to manage its manufacturing and distribution. Given the sheer scale of its operations, the company was advised that the implementation would take 48 months. Hershey's wanted it done in 30.
Pressure to roll out the system on time resulted in cut corners and inadequate testing, and when the ERP went live, unpredicted issues brought work skidding to a halt. Hershey's was unable to process $100m worth of orders at their busiest time of year — despite having the inventory on hand.
So be wary of any vendor who says they can fast-track your implementation; there are bound to be bumps in the road with any new system, and a good vendor will know that.
Shortlist and assess your ERP vendor options
With your ERP selection criteria in hand, it's time to start looking for vendors that may be able to match your requirements.
If you're not sure where to start, stick to your vertical. Many ERPs are industry-specific, so don't waste time researching a solution that's not made to fit the needs of your particular business type. If you're part of an industry association, or have peers in your vertical who you can approach for advice, seek out recommendations.
When you've found some vendors that have potential, add them to a shortlist and seek out more information. Many vendors will put together a proposal tailored to your business, or offer to send a representative to give you a demo in-house. Some will also have online product demos and free trials, so take full advantage of those so you can see the product in action and get a feel for it.
Obviously, the bulk of reviewing an ERP vendor will entail stacking up their features against your hypothetical spec, but you should also assess the vendor in a broader sense, taking into account things like past experience, customer satisfaction, and service levels.
Questions to ask during ERP vendor evaluation:

How long has the vendor company been in business?
What experience do they have in my industry?
Are they the developers of the product, or resellers?
How does their pricing and billing model work?
What deployment and hosting options do they provide?
What kind of support do they offer?
Do they provide training for new users?
Were they easy to contact, and has their service and communication been good so far?
What plans to do they have for the future of the product?
How often is the product updated?
Is the solution scalable?
How long do they estimate implementation will take?
Can they give references?
What sets them apart from other vendors?
Think long-term — will this ERP system be updated to stay ahead of the latest developments in technology, and most importantly, with the growth of your business?
No one wants to roll out a great new business system only to find that a few years down the line it's struggling to keep up. Don't be drawn in by a slick interface and a few jazzy features — remember to look under the hood.
To help you through your vendor selection journey, we've created a PDF checklist to help evaluate your potential ERP suitors. There's also plenty of space for you to note down your own questions, alongside the essential need-to-knows.
Conduct a comparison 
Once you've taken a good hard look at all your shortlisted vendors — culling any that didn't measure up to your requirement analysis — you can compare the remaining vendors and see which best fits the bill.
When you're comparing vendors, it might help to create a scoring system similar to the example below to quantify how well they measure up against each other.
| | | | | |
| --- | --- | --- | --- | --- |
| Feature | SystemWise | OneERP | ePlanner | SuiteCor |
| Applicant tracking | 3 | 2 | 1 | 2 |
| Work order management | 2 | 2 | 3 | 1 |
| Sales forecasting | 3 | 2 | 3 | 2 |
| Fleet management | 1 | 2 | 2 | 3 |
Take your time, and get it right
Selecting an ERP is a huge step for a business, so take your time when it comes to evaluating and comparing vendors. Implementing an ERP solution can be a long process, but putting the research in now and properly outlining your goals and expectations can be the difference between generating a great ROI, and dealing with a messy failed implementation.
Need the cliff notes? We've summed up the key points from this post into a handy infographic:
Need talented tech professionals to help you execute your digital transformation vision?
Browse the best CRM candidates in your own time, on your own terms with our free Candidate Search.