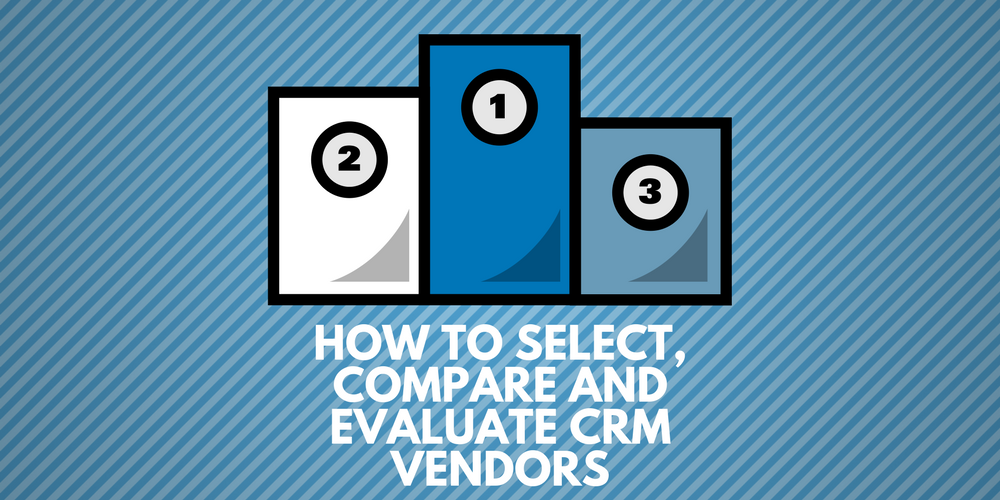 Decided that the time is nigh for your business to get a CRM?
If you've already taken the first step in working out whether or not you need a CRM, now it's time to dive headfirst into the burgeoning market and see what's out there.
With hundreds of CRMs to choose from, it can be hard to know where to start on your quest to find the perfect solution for your business. But fear not, software adventurer. We've put together a practical guide on how to approach CRM vendor selection, as well as a free checklist that you can download and use during your vendor selection, and a handy infographic that summarizes the key points.
Map out your requirements — and your budget
As tempting as it might be to whack "CRM vendors" into Google, let's not run before we can walk. Before you can decide which platform is right for you, you need to work out exactly what functionality you need from your new CRM.
Picture (or write down, or draw) a hypothetical customer's journey with your company — from that person discovering your products, through to making a purchase, receiving their order, getting any support they might need, and finally (hopefully) becoming a brand advocate. What do you need from your CRM to meet, and exceed, that customer's expectations at every stage of their lifecycle?
Once you've got a good idea of what features you require to run your day-to-day operations, make a list. Ever go to the supermarket and end up coming out with bags of things that were on special, but forgetting what you originally went in for? It's easy to get caught up in a tide of flashy features and overlook a crucial capability, so make a note of everything you need so you can check it against what any potential vendor is offering.
Next, work out how many users will need access to the new system, and how much. Some CRMs offer licenses with varying degrees of usage to help businesses cut costs. You may have some employees who require read-only access the CRM to get certain information. Others may only need to perform basic data entry, rather than have full access to all of the solution's features. Outlining how many of each type of license you'll need could save you a lot of money.
Speaking of money, finally, you'll need to work out what you can afford to spend on a CRM. The vast array of CRMs on the market means there's bound to be one that fits your budget. But a CRM is an investment; the whole point of implementing one is to make your business more efficient, and more profitable, so keep that in mind when crunching the numbers.
Draw up a wishlist
Now you know what you need to facilitate the way you work today, but what about in the future? What features would make your life easier? What functions do you need to grow your business, or change how you do things for the better?
Is it mainly a data storage solution you're looking for? Do you want to generate more leads? Maybe you want to beef up your marketing efforts or create a better experience for your customers through social media. All CRMs have their strong suits, so you don't want to waste time checking out a solution that's not going to fit your requirements.
Speak to your sales team and find out their pain points. What about your current way of working do they feel could be done better? What is it that gets in the way of them doing the absolute best they can do every day? Which tools do they feel they need to supercharge their selling?
If you have a marketing person or team, catch up with them too. CRMs are a fantastic tool for marketers, so you want to make sure any system you roll out matches up with their strategies for the future.
Write down your wildest CRM dreams; you never know, they might just come true.
Need talented tech professionals to help you execute your digital transformation vision?
Browse the best CRM candidates in your own time, on your own terms with our free Candidate Search.
Do your research
It's time to start searching for CRM vendors and take a look at what they're offering.
Like in any industry, there are some big names dominating the CRM market, but don't be swayed solely by numbers. A huge customer base might well seem like a ringing endorsement, but no CRM is one-size-fits-all. If your business has particular needs,  let those needs inform your search.
Find out what a product's angle is, if it has one. Some CRMs may lean heavily on lead generation, some may have a more robust customer service module than others, and some might be particularly great for social networking and listening.
Take a look at their features, and see how many you can tick off against your needs and wants lists. If they can take care of all your base requirements, and have a least a few capabilities that could help with some of your future goals, add them to a shortlist.
Softwares like CRM are often updated regularly, and vendors can add new features all the time, so if you think a vendor is in the ballpark of being able to provide the functionality you're looking for, it's worth finding out more, as they may be planning to add new components in the near future.
Review the available CRM vendors
Now to dig a little deeper. At this stage, you should contact the vendors on your shortlist and ask for more information. Most good vendors will be able to take your brief and tell you if and how their product fits the bill.
Remember, there's more to a CRM than a dazzling array of features, and if you're going to find the right fit for your business, you need to factor in the less interesting stuff too. Licensing, security, set up; it all needs going over with a fine-toothed comb before you take the plunge.
Here are some key areas of consideration when reviewing potential CRM vendors:
Experience Does the vendor have a background in dealing with your industry and business type? Is their CRM proven to work with a similar business model to yours?
Cost How much does the product cost? How does the vendor bill customers? Does it offer different licensing levels?
Updates How often is the product updated? Are there any new features planned for the future?
Support Does the vendor offer a good level of support to help deal with any issues?
Compliance Does the way the software uses and stores your data comply with data regulation where you are?
Integrations Does this software support any software you already have and need to keep using?
Implementation How long does the product take to roll out? What's the process for importing legacy data? Will you need to outsource your implementation?
Some vendors will offer free trials or guided demos of their products, so make the most of these. Get everyone who'll be using the new CRM involved so they can get a feel for the features and interface. Be sure to note down any feedback they give you; you need a solution that works for everyone, or it won't work at all.
Many CRMs are scalable, so you want your vendor to be able to help you fortify and expand your CRM when the time is right. You should approach your relationship with your CRM vendor as a long-term commitment; yes, if you're not happy you can always switch to another product, but hauling your data over to and learning how to use a new solution all over again is a major annoyance.
To help you through your vendor selection journey, we've created a downloadable checklist to help evaluate your potential CRM suitors. Of course, no two businesses are the same, so there's plenty of space for you to note down your own questions, alongside the essential need-to-knows.
Compare your CRM vendors
When you've grilled a few vendors, and you've got a full picture of what their CRM solution offers its users, it's time to line them up and see which one best fits your needs.
If you're looking at a number of vendors, it can be useful to create a basic scoring system to total up their suitability. Scoring how well each product matches up with your requirements feature by feature, like in the below example, can give you a clearer idea of whether they make the grade.
| | | | | |
| --- | --- | --- | --- | --- |
| Feature | Boost CRM | SalesMate | ServiceWow | Lead Hunter |
| Social listening | 3 | 2 | 1 | 2 |
| Email marketing automation | 2 | 2 | 3 | 2 |
| Sales gamification | 3 | 2 | 3 | 2 |
| Role-based security | 1 | 1 | 2 | 4 |
| Total | 9 | 7 | 9 | 10 |
Slow and steady wins the race
When evaluating CRM vendors, be the tortoise, not the hare. You'll probably be hearing a lot of sales pitches, but take the time to step away and mull it over; you're bound to think of more questions as you go about your research.
Finding out exactly what the product does (and, just as importantly, what it doesn't), what the full cost of ownership is, and how the product can grow with your business will spare you any unpleasant surprises once you're in deep with the solution.
Think of adopting a CRM like getting married; there's always an out, but it's not something anyone really wants to go through, so do everything you can to get it right first time.
Need the cliff notes? We've summed up the key points from this post into a handy infographic:
Ready to get started with CRM?
The key to an effective roll-out is having an expert on your side. Upload your specifications, and we'll find the right Dynamics professionals to make your implementation a success.