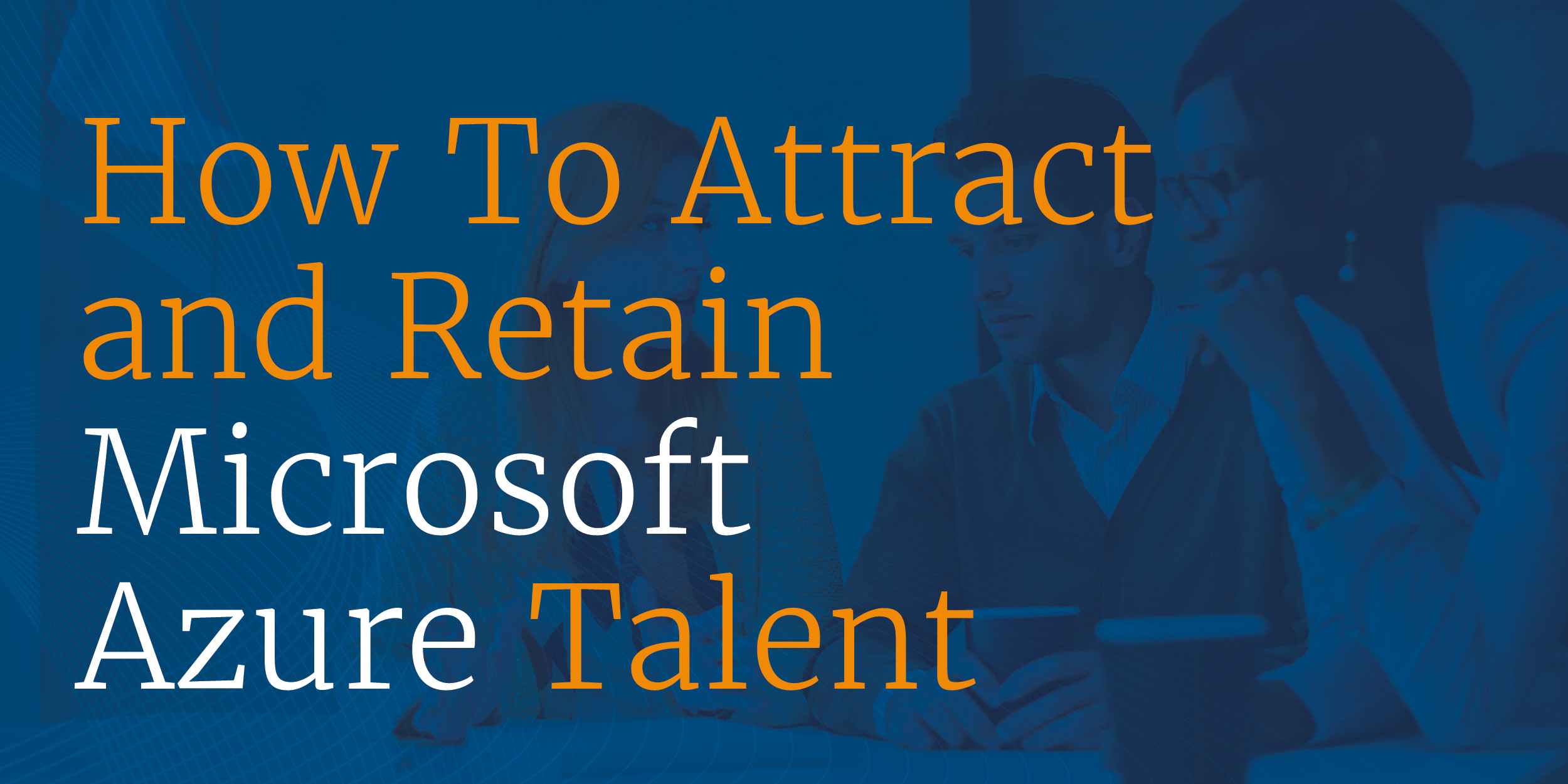 If your company uses Microsoft Azure, you'll want to build and develop a dedicated team that can manage and optimize your cloud infrastructure. In a competitive market, however, it requires a specialized approach to attract high-caliber candidates and maximize staff retention.
Here, we give you an insight into what it takes to attract and retain Microsoft Azure talent.
Research the Microsoft Azure market
Before you begin advertising job roles or actively searching for applicants, take the time to research the market and understand what it is Microsoft Azure professionals value most. Many companies assume they know what job seekers are looking for but it's easy to overlook some important factors that potential new hires will use in their decision-making process.
Consider also that the pandemic changed the way many job seekers see benefits, and what they think should be included as standard as part of a job. For example, our Nigel Frank Careers and Hiring Guide: Microsoft 365 & Azure Edition 2021-22 found that 54% of Microsoft Dynamics and Azure partner employees would consider working for an end user if they were able to work remotely, with the same amount (54%) revealing they would move for a better work-life balance. By ranking well-being and flexibility over financial incentives which have commonly been the top priority for employees globally, it's clear that doing your research is key.
By doing your due diligence and understanding which factors have the biggest impact on Microsoft Azure professionals, you can cultivate a working environment that naturally attracts top industry talent, and we make it easy to access the information you need.
Need some extra direction? Watch our webinar on 'How to attract the best Azure professionals', where we share valuable insights into the sector to help you to match your job roles and work environment to suit leading Azure professionals.
Attract vs retain
Businesses often focus on attracting top talent, which is beneficial because it enables them to acquire team members that deliver enhanced value. However, putting an emphasis on acquiring talent and failing to focus on retaining talent can lead to high rates of employee turnover. As a result, companies will get caught in the cycle of regularly investing in recruitment and hiring new Microsoft Azure professionals, only to lose them a matter of months later.
As every business leader knows, high rates of staff turnover are disruptive and inevitably have a negative impact on operations. Skills gaps within the team, combined with responsibility handovers and carrying out any additional training, can reduce efficiency of projects. Furthermore, when a high number of employees leave, it can have an effect on the company culture and may be unsettling for existing team members, leading to even more staff losses.
To overcome this, businesses must focus on both attracting and retaining Microsoft Azure talent. Consistent research into the wants and needs of Azure professionals will enable you to continually enhance your workplace offering and retain more staff, for example. In addition to this, prioritizing staff retention will help to create a happier workforce, which will enhance productivity rates and deliver measurable benefits to the organization.
What attracts people to Azure roles?
If you are building a new Microsoft Azure team or want to supplement your existing Azure workforce with new hires, you'll need to know what attracts top talent to Microsoft Azure roles. While a competitive salary is to be expected, there are other perks that Azure professionals look for when considering whether to accept a new role. When Microsoft 365 and Azure talent responded to our survey, they told us which employee benefits or aspects of workplace culture matter the most:
1. Homeworking and flexible working
38% of respondents reported that homeworking opportunities could entice them to take a job offer, while 22% cited flexible working hours as a decisive factor. As the world of work continues to evolve, presenteeism is considered an outdated concept, so forcing people into the office is likely to be a significant barrier when it comes to attracting top Azure talent. If you can't offer full remote working, consider a hybrid approach which will still give your staff that flexibility, but in a more structured way that works for your company.
2. Paid time off (PTO)
Today's professionals expect a reasonable amount of paid time off throughout the year, with 37% of respondents maintaining that four weeks or more of PTO would entice them to seriously consider a job offer.
3. Bonuses
Unsurprisingly, the opportunity to earn financial rewards in the form of monthly, quarterly, or annual bonuses can help to attract top Azure talent to your organization, with 30% of respondents reporting that bonuses are still a significant factor when considering a new role.
4. Other factors
While home working, flexible working, paid overtime, and bonuses are major motivators for Azure professionals, other factors, such as health and medical insurance and training opportunities, are important too, with 25% and 13% citing these as motivators, respectively.
What makes Azure professionals stay?
Now that you've got an insight into what it is that attracts top Azure talent, you'll want to know how to ensure your new hires stay with your firm and remain motivated and engaged. As reported in the Nigel Frank Careers and Hiring Guide, just 65% of Microsoft professionals are satisfied in their current role.
Common reasons for considering a new role include:
1. Lack of career development
While only 13% of respondents reported career development as a decisive factor when accepting a new role, 41% say that a lack of career and promotion prospects would make them consider a new role. For existing team members, therefore, it's clear that career development is a top priority.
2. Salary stagnation
Employees expect their earnings to increase over time, which is why 38% of respondents cite salary stagnation as a reason for looking for a new Azure role. If you aren't empowering employees to increase their earning potential and develop their skills, it's going to be hard to retain a motivated Azure team.
3. Working environment and company culture
A company's culture has a major impact on working practices and employee satisfaction, which is why it's worth investing in developing a stimulating and supportive working environment. More than a third of our respondents (34%) would consider a new role to access a better working environment, so make this a priority if you want to retain successful Azure professionals.
Boosting Microsoft Azure acquisition and retention rates
Once you've taken a deep dive into how Azure professionals think and you understand what they're looking for from a role, you simply need to modify your work environment to ensure your company appeals to them—and will do for years to come.
Updating your benefits package to reflect post-pandemic needs and introducing permanent flexible, hybrid, or homeworking options is a good place to start but there are many other ways you can increase acquisition rates and enhance employee satisfaction, such as:
1. Offer career development opportunities
As our survey showed, a lack of career development is a major issue for Azure professionals, so make sure you're setting time aside with each individual team member to guide them to where they want to be within the business. Similarly, the opportunity to work across a range of products, undertake sponsored certifications and/or being invited to join varied projects, can keep Azure professionals engaged and increase staff loyalty to your company.
2. Create a social culture
By making sure that your company culture incorporates social activities and inclusion, you can strengthen team bonds and ensure that all personnel feel an affinity to the firm and their colleagues. When teams are working remotely or are collaborating from different workplaces, it's particularly important to develop a fun and supportive working environment that features some form of socializing, such as online events or regular in-person get-togethers.
3. Implement flexible working
In a post-pandemic world, Azure professionals reflect the increased demand for a better work/life balance that we've seen throughout the corporate sphere. When a job role can be undertaken from home, insisting that employees work from an office location can actually demotivate and frustrate staff, as well as elevating your employee turnover rate.
Whether you offer homeworking to permanent employees, introduce flexible work hours or switch to hybrid working, it's vital to find an effective way to fulfill your commercial objectives while meeting the changing needs of Azure professionals and other team members.
Become a competitive employer
In many ways, the tech skills gap means that employees have the advantage when it comes to negotiating work terms. As demand for talented Microsoft Azure teams rises, companies need to be competitive in terms of attracting and retaining Azure professionals. While you may not offer the highest salary across your industry, you can improve your reputation as an employer by providing an enviable working environment and culture.
Similarly, think outside the box when it comes to attracting Azure professionals to new roles. By implementing diversity practices, for example, you'll attract candidates from a wider pool of talent and reap the benefits that a more diverse Azure team can offer.
Need help finding great Microsoft Azure talent? We can help! As the global leader in Microsoft recruitment,  we pride ourselves on helping companies to build effective, sustainable, and successful Azure teams.
To learn more about hiring Azure talent, get in touch with our friendly team today or start your search right now.
Looking for fresh Azure talent to join your team?
More choice than any other agency and many candidates ready to start immediately.