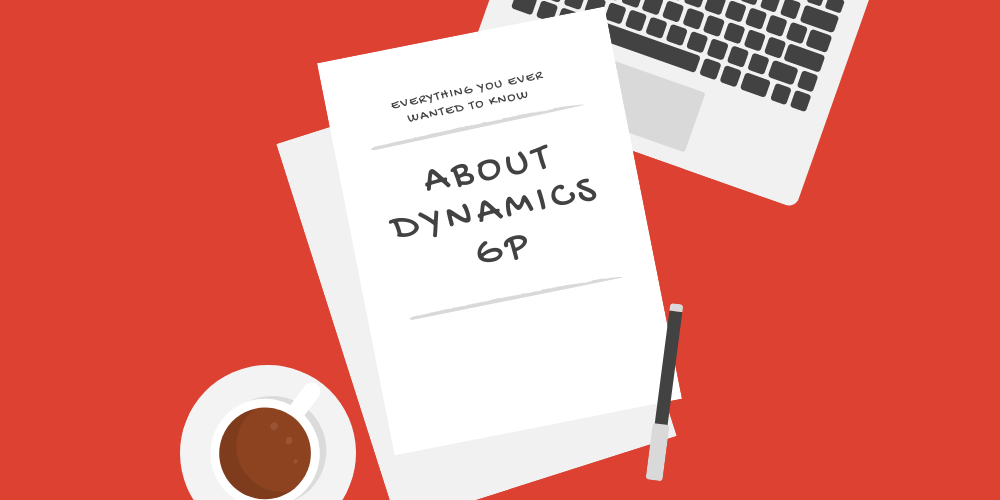 With much of Microsoft's recent efforts on the Business Applications front focusing on Dynamics 365, it can be easy to forget that there's much more to the Dynamics family that this latest iteration.
A comprehensive ERP platform that's reliably served tens of thousands of businesses for many years, Dynamics GP remains a firm favorite in the ERP ecosystem.
While it may not be getting the cloud-first treatment like some of its Dynamics siblings, Dynamics GP should not be overlooked if you're on the hunt for a robust, proven ERP system for your business.
If you've got questions about the what, the why, the how and the how much when it comes to Dynamics GP, you're in the right place. We're giving GP the FAQ treatment, bringing you everything you need to know about this popular software.

What is Dynamics GP?
Dynamics GP is a piece of business software made by Microsoft. It's an enterprise resource management—or ERP—program that helps businesses manage the back-end operations such as accounting that keeps it running on a day-to-day basis.
Dynamics GP covers areas like business intelligence, warehouse management, financial management, retail and e-commerce, inventory management, project management, service management, human resources, manufacturing, and distribution. Although it doesn't boast all the features of a full CRM, it also has some sales and service capabilities too.
How was Dynamics GP developed?
Dynamics GP started out as an administrative system, geared towards the US market. Unlike other Dynamics platforms, GP does not feature extensive multi-language or multi-currency capabilities, which limited its scope for expansion.
Dynamics GP is sometimes referred to as Great Plains, after the software company that originally developed the product. An independent company based in Fargo, North Dakota, Great Plains released the first variation of what would later become Dynamics GP in 1993. Dynamics Release 1.0, as it was known, was one of the first multi-user accounting programs available in the US.
In 2001, Microsoft purchased Great Plains, who had themselves recently acquired another ERP company named Solomon Software, bringing both Solomon IV and what was by then Dynamics Release 8.0 under the Microsoft umbrella. These two products were later renamed Dynamics SL, and Dynamics GP respectively.
In November 2016, Microsoft rebranded its Dynamics suite, rolling several of its CRM and ERP softwares under a single new product name; Dynamics 365.
However, Dynamics GP, like Dynamics SL, remains a standalone product.
What does Dynamics GP offer?
Dynamics GP allows businesses to run core processes like financial management, business intelligence and reporting, procurement, inventory, field service management, supply chain management, and project and job accounting.
It includes more functionality than entry-level accounting systems, and is comprehensive enough to support continued long-term growth as it can be used to manage multiple companies or units.
It also supports simple manufacturing processes, such as kitting or light assembly, and ships with integrated payroll functionality.
Who uses Dynamics GP?
Known for its strong financial management, Dynamics GP is used primarily by larger businesses than Dynamics NAV, appealing largely to companies with a $3-5m turnover. It's a particular favorite amongst distribution companies.
Dynamics GP tends to be used by businesses who are not "IT lead"; those who are not fast-changing, who have no desire or need for cutting-edge features, and are happy to stick with what works for them.
What are the main benefits of using Dynamics GP?
There are many reasons why businesses who require an ERP might choose Dynamics GP. Firstly, it's a proven product, having been in use since the early 2000s. It also has the benefit of Microsoft's trusted name, and the familiar look and feel of other Microsoft products.
Another perk of its longevity is that GP has grown a strong network of partners and professionals around it, who are available to help businesses realize their ERP vision. These partners have built a broad range of solutions that address specific industry needs.
Dynamics GP is a robust system, and most business can enjoy extensive functionality right out of the box, with minimal customization required. Those who do want to extend its capabilities can do so easily, thanks to the vast catalog of third-party add-ons available for GP.
The platform can also be deployed in a number of ways, giving businesses flexibility when it comes to how they choose to store their Dynamics data and how they access the system. GP can be accessed through the web, via a SharePoint portal, or using a traditional desktop computer, so both office and remote employees can perform business processes whenever they need to.
The business intelligence capabilities of Dynamics GP help users become proactive when it comes to their financials, allowing businesses to not only fix problems, but also prevent them from occurring in the first place.
GP's native integration with Microsoft Office, and other commonly used business tools like SharePoint and Outlook, makes it easy for businesses to further centralize their tasks, and collaborate with other departments and other businesses more easily.
More Microsoft talent than anyone else
Take a look at our database of pre-screened Dynamics professionals and take the first step toward landing the best administrators, developers, and consultants in the market.
Does Dynamics GP offer integration options?
The software also integrates naturally with another popular Microsoft product; Power BI. Microsoft's powerful, cutting-edge business intelligence platform, Power BI can help GP users get more out of their business data, helping visualize key information, and offering AI-fueled guidance on next steps and areas where efficiency could be improved.
There's also the guaranteed support; whichever version users opt for, Microsoft will provide updates and fixes for up to 10 years after its release.
How can it help businesses grow?
Businesses can't grow their operations unless they're able to properly assess the way they currently work. Dynamics GP allows businesses to improve visibility internally, and get a complete picture of their processes so they can see exactly where they can do better. Real-time analytics enable businesses to spot trends in their data, so they can quickly respond to changes in the market, and generate forecasts that ensure they're always ready to meet demand.
On the most basic level, using an intelligent ERP like GP improves record accuracy, making sure every user has access to the right information first time, which not only saves time, but improves the quality of a company's engagement with their customers and clients, helping to boost customer satisfaction and cement long-term loyalty.
Having a single repository for operational data enables businesses to get a clear, complete picture of things like production costs and outgoings, so budgets can be assessed and reevaluated on a regular basis to keep spending as low as possible.
GP is also scalable, and can be flexed to accommodate higher demands without sacrificing performance or incurring major increases to the initial investment.
GP offers users an innovative, flexible tool so they can be proactive and productive, meaning that employees can spend more time on the things that will help them move forward, and keeping their business ahead of the competition.
In addition, Dynamics GP's RapidStart implementation tools help make the solution fast and simple to deploy. The solution is also relatively easy to learn and use, so businesses can fast-track adoption and get the system running with minimal disruption to business.
What releases are currently available?
The latest available version of Dynamics GP is GP 2018, which was released in December 2017.
There are still a number of older versions—GP 2013, GP 2015, and GP 2016—which are still supported by Microsoft, and remain in use by many businesses.
Dynamics GP vs. Dynamics NAV
Both GP and NAV are full-featured, industry-leading business management solutions. Both have been proven in tens of thousands of businesses worldwide, providing financial management and operations capabilities that save time and support business growth.
Though its suitability for international growth was limited by its language capabilities, Dynamics GP was always developed as a fully functional product for English-speaking markets, ready to be used by businesses straight out of the box.
Dynamics NAV, on the other hand, was built primarily as a foundational platform on which ISVs could develop their own product. Businesses opting to use Dynamics NAV can expect around 65% of the functionality they need to be available in an off-the-shelf iteration of NAV; they then have the space to be able to add in what else they need based on their own business-specific requirements.
Here are some key differences in functionality between NAV and GP:
Dynamics GP is not as adaptable, as it is designed to be used right off the shelf. As a result, GP is much is faster to implement and has many available standard add-ons.
NAV has a more flexible accounting plan that can trace financial transactions through account dimensions, and a more flexible reporting structure.
In GP, payroll functionality is an out of the box functionality; with NAV, payroll is only available through an integrated third-party solution.
Though GP does support some light manufacturing processes, businesses looking for more comprehensive manufacturing features may be better off with NAV.
Dynamics GP vs. Dynamics AX
Dynamics AX (now known as Dynamics 365 for Finance and Operations) is Microsoft's enterprise ERP solution. It is most popular amongst mid-sized to enterprise companies, especially within the manufacturing, distribution, supply chain, and retail industries. It offers extensive support for companies with complex needs such as multi-country, multi-language, multi-site, and multi-currency. As such, AX is generally favored by much larger businesses.
Built for Fortune 1000 companies, Dynamics AX/F&O tends to compete with solutions such as SAP and Oracle, and appeals to appeal to multinational manufacturers with users in the hundreds, and operations spread across a number of global locations.
Dynamics AX/F&O boasts several high-level features that Dynamics GP does not, and the ability to manage a complex organizational structure, and the use of a variety of financial standards within the same solution.
It also features more industry-specific functionality; though GP can be extended, it's more of a one-size-fits-all software when used off the shelf.
What are some of Dynamics GP's non-Microsoft competitors?
Acumatica
Agresso and Coda Financials from Unit4
Intacct
NetSuite
Sage Group
SAP Business One
Eclipse ERP

What license types are available for Dynamics GP?
Dynamics GP licenses are sold on a user-by-user basis, so the first step to purchasing Dynamics GP is working out how many user licenses will be required, and what level of access these users will need.
There are three different licenses available for GP, at three different price points. Each offers a varying level of access to the system and its functions. Some users may need to use all of GP's features, whereas some may only need basic read and write privileges.
Full User License
With a Full User license, users have unrestricted access to Dynamics GP with full read and write capabilities across the system. This is the most common type of license within a company, as well as the most expensive.
Limited User License
Limited User licenses give the user will limited access to functionality within GP. This license is usually reserved for users who have to perform certain tasks within GP, such as sales, purchasing, or payroll tasks, but do not need full functionality.
The limited user does not have full write, but does have full read capabilities, which allows them to run reports or look at existing transactions and journals. This license allows a company to control costs on certain employees that need access to GP, but not the full functionality.
Self-Serve User
The Self-Service User license only allows a user to go into GP to retrieve, edit, update, or enter their own personalized data.
Each one of these licenses is either Concurrent Client Access License (aka CALs), or User CALs. Concurrent CALs, refer to a maximum amount of users allowed in GP at one time. The Full User and Limited User are both Concurrent CALs. The User CALs are specific to a user and may not be shared with another GP user. The Self-Serve User is a User CAL.
How is Dynamics GP sold?
Dynamics GP is purchased through Microsoft partners, who sell GP on Microsoft's behalf. Users purchase a "base" version of Dynamics GP, known as the Starter Pack, and can choose to add in extensions and other modules to build out the platform's capabilities if necessary.
The Starter Pack includes three Full User Licenses, and covers GP's core functionality including finance, distribution, and payroll.
For an additional one-off cost, users can purchase the Extended Pack, which includes modules for manufacturing, warehousing, and project management, plus some CRM and business intelligence capabilities.
Further expansion packs include the Customization Pack, featuring the Integration Suite and Customization Suite, and the Extended HR and Payroll Pack, which gives users access to advanced payroll and HR features, PTO manager, and benefits self-service.
How much does Dynamics GP cost?
Starter Pack: $5,000 for 3 concurrent users
Additional Full Users: $3,000 each
Additional Limited Users: $600 each (read-only access)
Self-Serve Users: $60 each
Optional (one-time fee):
Extended Pack: $10,000
Customization Pack: $6,000
Extended Human Resources & Payroll Pack: $7,000
What payment options are available to users?
Users have the choice of purchasing Dynamics GP licenses upfront (perpetually), or paying a monthly fee (subscription). Both licensing options include rapid start tools, built-in functionality to get up and running quickly.
How is Dynamics GP deployed?
Until recently, Dynamics GP was available exclusively on-premises; hosted by the user internally, on their own servers. Though Microsoft does not offer GP as a SaaS product as it does with some other Dynamics apps, there are a number of ways to deploy GP through Microsoft partners:
On-Premises
Users purchase the software and deploy on their own server, either on individual workstations or connect via a Terminal Services or Citrix connection which allows remote access.
On-Premises users maintain control of their data at all times and are not dependent on an internet connection. Users are responsible for all server maintenance, backups, and other IT services.
Hosted
Users purchase the software and pay a monthly fee to have it run on servers at a secure data center, either on a shared or dedicated server. The software is then accessed over a secure internet connection.
Users own the software but do not need to purchase or maintain hardware infrastructure. Access is dependent on an internet connection.
Cloud
Users pay a monthly fee to subscribe to an online version of Microsoft Dynamics GP, customized to be 100% cloud, and accessed over a secure internet connection. Users do not own the software, but if the user decides they want to purchase the system later their data can easily be moved onto their own server.
Job specs? We can take care of that.
Tell us what you're looking for and we'll put together a job spec that'll attract professionals with the skills and experience you need.

How long does Dynamics GP take to implement?
How long a Dynamics GP implementation will take depends on a near-endless collection of business-specific factors. How many users does the customer they have? Is there a lot of legacy data to be migrated? How much development work is necessary to make the solution meet the users' needs?
Though it varies from business to business depending on requirements, generally businesses who don't require a lot of customization work, or have minimal legacy data to migrate into the new system, can expect their implementation to run between two to four months.
Is Dynamics GP available in the cloud?
Users who want to lower ownership costs by cutting out hardware costs, want to be able to access Dynamics GP remotely, or are looking for a fast implementation may opt to deploy in the cloud.
Unlike Dynamics 365 apps, Dynamics GP isn't available as a cloud-ready product, but can be hosted in the cloud through a Microsoft partner, either on Microsoft's Azure platform, or on a private cloud network.
Deploying in the cloud means that users do not have to invest in new hardware, infrastructure or re-implementation costs, and can get access to Azure-based applications and services like Power BI and Office 365.
Can you upgrade to Dynamics 365 from Dynamics GP?
There is no upgrade path from Dynamics GP to the ERP applications within Dynamics 365. While switching from Dynamics GP to Dynamics 365 would be relatively cheap in terms of licensing, it would entail a costly implementation of the new system.
There is a Data Conversion utility built to pull data from Dynamics GP into Dynamics 365, however, GP is a completely different product than the other Dynamics ERP apps; migrating to Dynamics 365 would be no different than switching from GP to NetSuite or any other separate product. Despite the connector, switching to Dynamics 365 is no easier than switching to any other product, Microsoft or otherwise.
It is highly unlikely that a cloud version of Dynamics GP will ever be released. Though Microsoft's focus is on cloud and mobile, it is not rebuilding every app to be a SaaS or PaaS product.
How often is Dynamics GP updated?
Until recently, Dynamics GP was on a rapid release path; every six months a major version was released, followed by a minor version. In early 2016, GP 2016 released, then, six months later, 2016 R2 was rolled out. Each minor update was packed with new features and functionality updates that it required a full upgrade to the system.
Microsoft eventually received feedback from customers that the releases were coming out too fast and clients could not keep up. GP now enjoys feature and functionality updates every year.
What is RapidStart?
RapidStart is a Dynamics GP configuration and migration tool used to quickly set up core applications to meet business needs. It offers users 13 industry templates to choose from, with customized configuration available through the creation of a template in Excel.
RapidStart allows users to shorten deployment times and facilitates increased Partner productivity by minimizing the amount of time required for routine implementation tasks.

What are the system requirements for Dynamics GP?
To effectively run an on-premise deployment of Dynamics GP 2018, Microsoft recommends that hardware (and software) meets the following requirements:
32-bit
x64
Operating
System
Microsoft Windows 10
Professional Edition
Microsoft Windows 10
Enterprise Edition
Microsoft Windows 8 & 8.1
Professional Edition
Microsoft Windows 8 & 8.1
Ultimate Edition
Microsoft Windows 8 & 8.1
Enterprise Edition
Microsoft Windows 7
Professional Edition
Microsoft Windows 7
Ultimate Edition
Microsoft Windows 7
Enterprise Edition
Microsoft Windows 10
Professional Edition
Microsoft Windows 10
Enterprise Edition
Microsoft Windows 8 & 8.1
Professional Edition
Microsoft Windows 8 & 8.1
Ultimate Edition
Microsoft Windows 8 & 8.1
Enterprise Edition
Microsoft Windows 7
Professional Edition
Microsoft Windows 7 Ultimate
Edition
Microsoft Windows 7
Enterprise Edition
Processor
1 Dual Core or 1 Single
Core Processor 2.6 GHz
or higher
1 Dual Core or 1 Single Core
Processor 2.6 GHz or higher
Available
Hard Disk
Space
2GB or more on the
system root
2GB or more on the system
root
Minimum
Available RAM
2GB or more
2GB or more
Network
Card
1GB Ethernet
Microsoft
Office
Microsoft Office 2013 32bit & x64
Microsoft Office 2016 32bit & x64If using Office x64, the server type in System must be set to Exchange.
The Exchange server type only supports XPS and DOCX.If using Office 32bit, the server type in System Preferences can
either be MAPI or Exchange
Internet
Explorer
Internet Explorer 11.0 – Desktop Mode Only
Edge
ODBC
Driver
SQL Native Client 11.0
SQL Native Client 10.0
A 32bit ODBC DSN is required for Microsoft Dynamics
GP 2018**
Adobe
Adobe X
If using a hosted, cloud version of GP, a minimum internet speed of 2MB is recommended, along with Windows 7 or higher, and Microsoft Office 2010 or higher.
Can Dynamics GP be customized?
Although Dynamics GP is not built to be tailored to a user's particular business processes in the way that Dynamics NAV is, it is still flexible and can be customized using third-party add-ons.
What programming languages does Dynamics GP use?
.NET/C#
Visual Studio
Dexterity
SQL
VBA
Modifier
Extender by eOne
Does GP support Active Directory?
Somewhat. Previous versions of GP were hosted entirely on SQL servers which required desktop installation; later versions (2016, 2016R, 2018 and 201R2 launching 1st October) do support Active Directory through a web client but still require SQL.
Does GP integrate with other Microsoft products?
Yes, namely with CRM, NAV, AX, SharePoint, Office 365, and Power BI.

What certifications are available?
Last year, Microsoft revamped their certification process, and unveiled a new certification structure. The previous product-specific Dynamics certifications were retired, and replaced with the Business Solutions certification track.
The new certifications focus solely on Dynamics 365 products; Dynamics AX/Dynamics 365 for Finance and Operations, and Dynamics CRM/365. There is now no certification for Dynamics GP.
Although Microsoft does not offer a GP certification, the company has given its blessing to certain independent certifications. Following the withdrawal of Microsoft's official GP certifications, Dynamic Communities, the company behind the popular AXUG, GPUG, NAVUG, and CRMUG user groups, started a new organization to fulfill the ongoing need for testing and certification in the GP and NAV communities. The Association of Dynamics Professionals operates independently as a non-profit organization, acknowledged and supported by Microsoft.
The organization offers two certifications for Dynamics GP; GP Core Financials Setup and Functionality, and GP Core Installation and Configuration. The certifications are issued in two levels; core credentialing, and advanced credentialing. Professionals who attain multiple core credentials will attain advanced certification status.
Each exam costs $187.50 to sit. Upon passing a Dynamics Credentialed Professional exam, participants receive a certificate acknowledging their DCP status, which is valid for two years.
What jobs are available working with Dynamics GP?
There are two main categories of common Dynamics GP roles; those who work on implementations, setting up and configuring the software before it's rolled out, and those who work on the day-to-day running and maintenance of the software.
During a Dynamics GP implementation, you're likely to come across the following roles:
Business Analyst
A solution architect's job is to examine user plans, measure requirements, and help customers work out what the new solution should look like and what it has to deliver.
View Dynamics GP Business Analyst jobs
Functional Consultant
The functional consultant will have strong knowledge of the Dynamics GP platform, and how its capabilities can be configured to meet user needs. They'll take all the prerequisites worked out earlier, map those against the functionality of the solution, and work out a practical plan of action. They might also draw up documentation for the project, like solution design plans, functional requirement documents, customization specs, test plans, and user guides.
View Dynamics GP Functional Consultant jobs
Technical Consultant
A good Dynamics GP technical consultant will possess both technical and functional knowledge of the application, and know the development languages used for that specific product inside out. They'll collaborate with solution architects and functional consultants to work out what tinkering has to be done within a Dynamics solution, customize the system, and develop new ways of meeting these needs.
View Dynamics GP Technical Consultant jobs
After implementation, businesses may recruit for the below roles to maintain and support the system:
System Administrator
The Dynamics GP System Administrator will keep everything ticking over and working the way it should. This will include performing any necessary administrative support, troubleshooting issues, and overseeing project activity such as upgrading the system. Some GP Admins will also use SQL queries to improve GP's reporting capabilities.
View Dynamics GP System Administrator jobs
Developer
A GP developer will work to customize the solution to help it better meet the changing needs of the business. Developers should have a range of skills such as C/AL, .NET, C#, and SQL Server. Their tasks will likely include developing plug-ins and workflows, customizing forms, views, business rules, reports, and dashboards.
View Dynamics GP Developer jobs
Trainer
An ERP solution is only as good as the people who use it, so often businesses will hire trainers to bring users up to speed and help them get the most out of their software.
View Dynamics GP Trainer jobs
Systems Accountant
Dynamics GP has a wide range of accounting features, and some larger businesses using GP will employ an accountant with knowledge of the product to manage their finances. Systems Accountants are expected to have extensive product experience, and be qualified accountants with knowledge of statutory accounts, chart of accounts, and financial process mapping.
View Dynamics GP Systems Accountant jobs
Dynamics GP market information
Around 47,000 organizations use Dynamics GP.
The product is most popular in North America and Australia. It has little presence in Europe as its multi-currency functionality is relatively poor in comparison to other Dynamics apps, such as Dynamics NAV. However, it can be used in additional countries with partner-supported localizations.
See the latest salaries for Dynamics GP professionals

Is Dynamics GP being retired?
There's been a lot of controversy surrounding the future of Dynamics GP in the two or so years since Dynamics 365 was released.
Though Microsoft's primary focus over the past two years has seemed to be on the products under the Dynamics 365 umbrella—AX, NAV, and CRM—GP is still being invested in, and remains a strong option for businesses considering an ERP system.
Dynamics GP has an extensive user base and a strong community of partners, resellers, and ISVs. The product brings in a lot of money for Microsoft, and to paraphrase GP marketing manager Pam Misialek, if the partners keep selling Microsoft Dynamics GP, Microsoft will keep developing and supporting it.
Microsoft's strategy surrounding GP is very much informed by the ecosystem itself; the company recently moved the product to a yearly update schedule following community feedback, and are taking direction on new features and developments directly from users.
What does the future of GP look like for users?
The majority of GP users are loyal to the product over the Dynamics brand in general and have no intention of switching to Dynamics 365.
Such is the cost and hassle of moving from Dynamics GP to another Dynamics ERP product, those customers who have outgrown GP are tending to move to another vendor, such as SAP or NetSuite, rather than sticking to Dynamics.
Now that Microsoft has realized that most GP customers will not be tempted to move to Dynamics 365, the company is bringing some new tools to GP, such as the ability to use the Common Data Service.
There is a limit to this, however; Microsoft has no plans to make a SaaS version of GP in the way that it has done with CRM, NAV, and AX; because of its regional limitations, and its chiefly technologically conservative user-base, it's just not worth it.
The product will be updated—recently Dynamics GP 2018 has seen improvements to its analytics and data visibility functionality—and features will be enhanced to keep up with changes in legislation such as GDPR and Brexit, but generally, new features will not be added; with GP, Microsoft is simply "keeping the lights on".
The majority of the work in keeping GP afloat and customers serviced is being done, and will continue to be done going forward, by GP partners.
A major issue facing customers who decide to stick with GP will be finding resources: the pool of partners, and the Dynamics professionals who work within them, is set to shrink as GP pros retire, or move on to products which have a longer shelf-life.
No new blood is coming into the GP talent pool, and so skilled Dynamics GP professionals will become harder and harder to find, and will, therefore, become much more valuable in the near future.
What do Dynamics GP professionals get paid?
Fill out the form below and download a copy of the full Microsoft Dynamics Salary Survey report, including more information about the Dynamics market and salary data from thousands of professionals around the world.