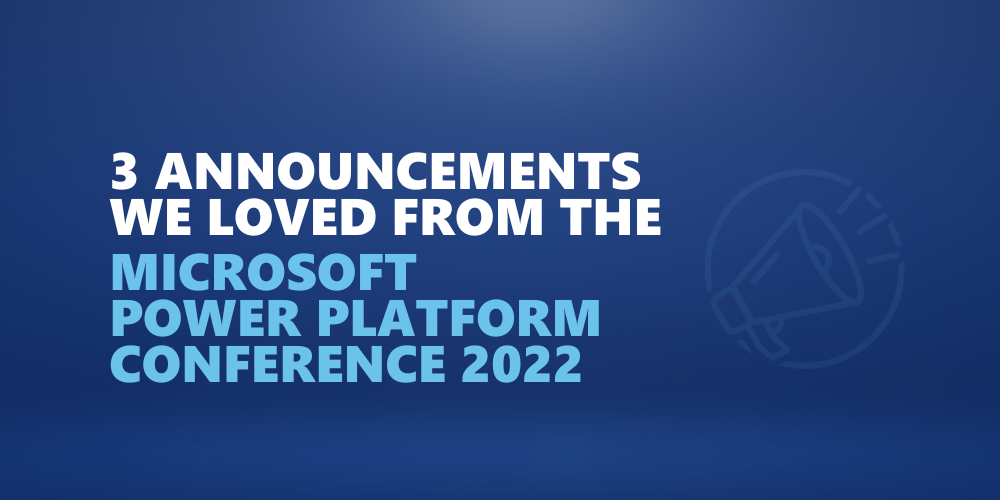 This month has been an incredibly exciting one for the Power Platform ecosystem, with Microsoft hosting their first ever Power Platform Conference between September 18 and 22. The five-day event is now set to become an annual occurrence—and is a must for those professionals working with Power Platform products, including Power BI, Power Apps, Power Automate, Power Virtual Agents, and Power Pages.   
Featuring over 100 speakers, and 150 sessions, the conference provided some interesting insights from Microsoft's senior thought leaders and software engineers, as well as community experts. Just to give you an idea, among speakers were President of Microsoft's Collaborative Apps and Platforms service, Jeff Teper, Dona Sarkar, Director of Technology for Microsoft Accessibility, and the Vice Presidents of Microsoft Power Apps and Power Automate, Ryan Cunningham and Stephen Siciliano.  
Having Power Platform professionals from all around the world brought together in one single in-person conference makes a great occasion to showcase Power Platform products, while unveiling exciting releases and updates, including any that are still in the tech giant's pipeline. And although it's hard to pick our favorites, here are some of these updates and launches we loved from the conference, especially as they reflect recent hiring trends and latest updates from the Power Platform ecosystem.   
1. Power Up skilling program
Microsoft revealed their latest upskilling program during this year's Power Platform Conference, through which professionals with non-technical backgrounds can gain low-code skills, while using Power Platform to advance their careers. Whether you're looking to switch careers completely, or become a low-code citizen developer, this is an incredibly exciting opportunity, especially with Gartner estimating that by 2025, 70% of new applications developed by enterprises will use low-code or no-code technologies. Interested in learning more? You can find more information about the program on the Power Up program page, where you'll also find some of the most inspiring career-switcher success stories too.  
2. New features to support collaboration
Among the powerful features announced during this conference, the two that grabbed our attention most were the introduction of Cards for Power Apps, as well as co-authoring in Power Apps.  
Cards for Power Apps are particularly useful now that the world is becoming increasingly hybrid- and remote-first. We've all been there—working on one app, talking to your colleagues on another, and switching back and forth between all your apps to get one single task done. Through Cards for Power Apps, users can now create and send micro-apps to other users without leaving Teams or Outlook. These cards can be created using the drag-and-drop Power Apps designer, and can include anything from polls, data gathering, surveys and much more to help users collect, connect, and share data, and make informed business decisions in a more efficient way.  
Co-authoring in Power Apps further addresses a need for amplified by hybrid work arrangements—and allows developers to simultaneously edit applications, similar to what you'd expect in a Microsoft 365 environment. This has a massive impact on both collaboration and development efficiency, especially for the rising number of virtual teams. Plus, it's an excellent tool for learning—further enabling the opportunity for shadowing, and collaborating with more experienced developers, especially if you're still learning the ropes of Power Platform!  
3. Integrated virtual agent in Power Apps
One other new feature launched during the conference is an integrated virtual agent in Power Apps—which assists makers on their learning and development journey by directing them to Power Apps learning content, as well as any organization-specific internal resources.   
Learning and development opportunities have always been important among Microsoft professionals, but especially after the pandemic, more people are looking at ways to advance their careers and, better still, what they can offer to their current and potential employers. In fact, in our Nigel Frank Careers and Hiring Guide: Business Applications Edition 2022, we found that 83% of respondents gained a Microsoft Power Platform certification during the pandemic, using their time to upskill and advance their professional development. And although we're coming out of the other end of the pandemic now, this trend is unlikely to change—as candidates look at more ways to remain competitive in a rapidly-evolving hiring market.  
Through this virtual agent, makers are connected more experienced makers, who can in turn be nominated as Advisors into the Advisor Program and help novice makers within their organization. Plus, Maker matching can also help provide makers with the support they need by connecting them directly with people within their internal community with the right skills to help them solve any issues or problems. This not only promotes team collaboration, but also invites makers to learn from one another too.  
We don't know about you, but we're already looking forward to next year's Power Platform Conference! If you'd like to catch up on this year's event, we invite you to take a look at what has been going on the official conference Twitter page,  and have a scroll through the official hashtag on Twitter, #MPPC22. We also spotted some activity on #MPPC23, so if you're looking for the latest updates about next year's event, keep an eye on this hashtag too.  
Naturally, you can always stay up to date with the latest Microsoft events on our Nigel Frank blog. We share regular introduction posts, recaps, and key takeaways, as well as anything that catches our eyes during the biggest and best events from the ecosystem's calendar.  
You'll also find plenty of information about Power Platform in our Nigel Frank Careers and Hiring Guide: Microsoft 365 and Azure Edition 2021-22 and Nigel Frank Careers and Hiring Guide: Business Applications Edition 2022. Both guides include ample information on key topics such as certifications, learning and development, diversity, perks and benefits, and much more.