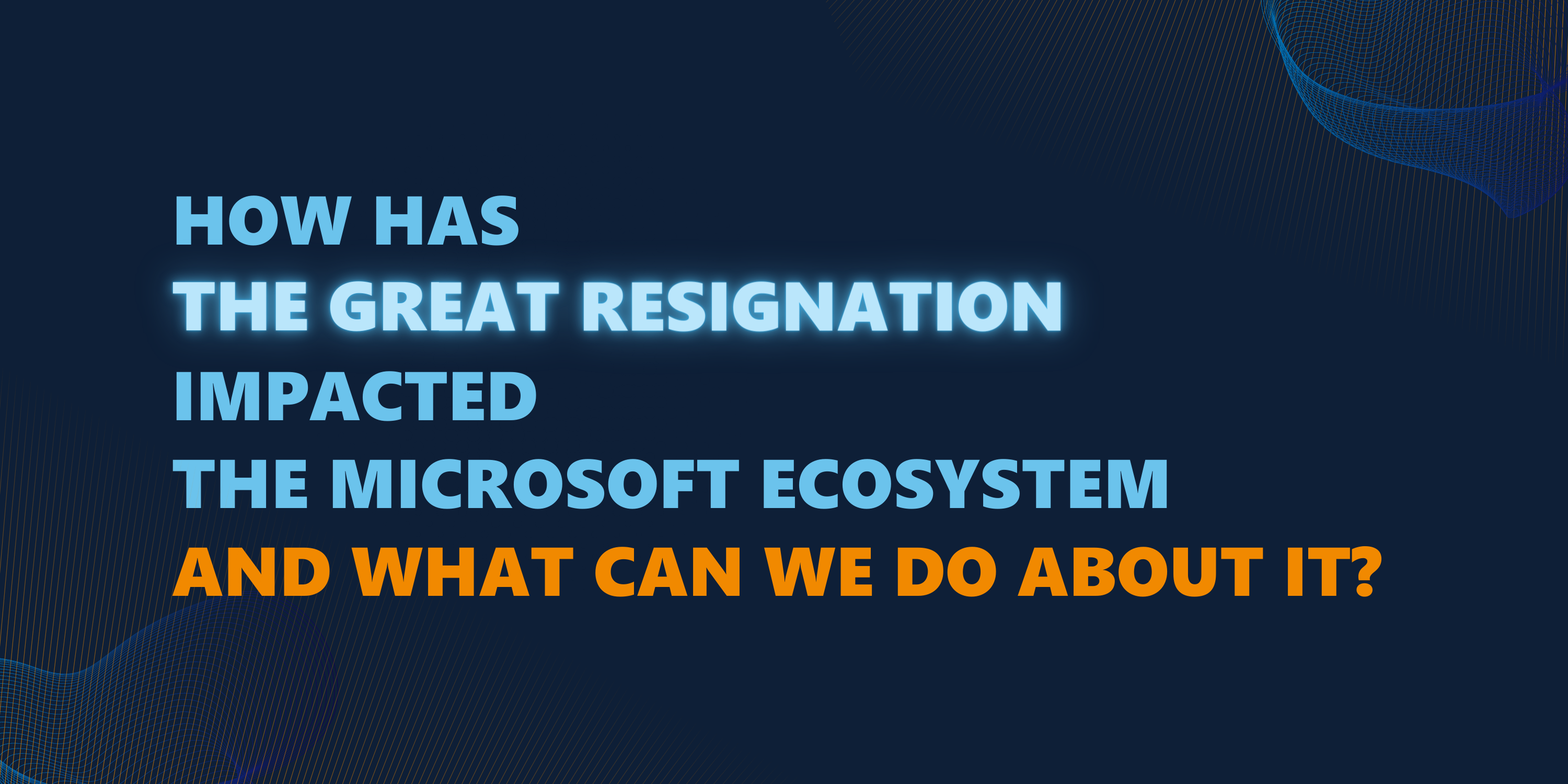 We live in a digital world—and that's something that will continue to be the future going forwards as technology continues to rapidly evolve.  
What has always been a fast-moving industry was immediately accelerated from the minute the world entered a global pandemic, meaning organizations operating in the tech landscape had to be even more on the ball—both in terms of keeping up with the wants and needs of their customers, but also of their current workforce and future employees as more workers were tempted by new ventures. 
The Great Resignation, which saw an estimated 47 million Americans voluntarily quit their jobs in 2021, after the initial effects of the pandemic started to subside, shifted the power dynamic in favor of employees and meant job seekers and those who were in positions were able to demand more (U.S Bureau of Labor Statistics). And those employers that didn't or couldn't meet the standards required risked losing their top talent to competitors who were willing and able to. 
This has been a particularly pivotal period for the tech industry, with cloud tech in particular having to accelerate rapidly beyond its years to provide organizations with the tools they need to stay afloat. And with Microsoft positioned as one of the leaders in the cloud landscape, it's almost safe to assume professionals and organizations working with this technology will have been impacted in some way by the race for talent and the Great Resignation. 
But how exactly did it impact the market, and how can Microsoft professionals and organizations contend with the changes it's made? In this blog post, we explore further.  
Microsoft in a pandemic
The pandemic changed the way we do many things, and for Microsoft, their services were desperately needed more than ever— particularly their Intelligent Cloud segment which rose 23% to $14.6 billion, with 50% growth in Azure which exceeded the financial year's expectations from analysts (Microsoft).  
The sharp increase caused by the greater need to access resources, data, and materials online and the urgent requirement for teams to be able to communicate readily, boosted Microsoft's already immensely strong market position. This was particularly the case for Microsoft's Azure and Dynamics 365 cloud services, with Azure quickly taking second place for the global cloud infrastructure vendor with the greatest market share—currently holding 22% of the overall market share. 
Since the start of the pandemic, Microsoft has gone from strength to strength in terms of its growth, but one issue that's stemmed from this rapid period of uptake is the race for talent.  
With more of Microsoft's cloud products and services being adopted and integrated into organizations' IT infrastructure, the demand for professionals that could assist with using, monitoring, and analyzing this software, as well as being able to diagnose any problems with it or even carry out migrations for those who hadn't used it before, rapidly increased.  
But when the demand started to become disproportionately higher than the amount of available talent, which in part can be attributed to the Great Resignation, this created issues for the tech giant—and many others across the industry.  
As we emerge from the other side of the pandemic, we're seeing an even greater uptake of businesses using Microsoft cloud products and services. And there's every chance this is to do with the widespread success we've seen from other organizations who adopted it both before and during the Covid-19 pandemic.  
Research into the Microsoft ecosystem throughout the pandemic shows that the adoption of cloud products and services is most noticeable in the hybrid and multicloud sectors. For example, a survey conducted by The Harris Poll which was sponsored by Microsoft earlier this year revealed that's 86% of respondents plan to increase their investment in hybrid or multicloud environments, with 95% acknowledging that it has been critical to their success over the past two years. In fact, 83% of respondents who operate in hybrid and multicloud environments reported a revenue growth compared to non-hybrid or non-multicloud users.  
With more businesses turning away from a sole public cloud approach and instead focusing on implementing cloud arrangements where applications are running over a few different environments, the demand for experienced talent is urgent. Not only do these professionals need to know all the ins and outs of how cloud technology works, but also how and when to move them as computing needs and costs change—and the data security measures that need to be implemented to protect sensitive information during the storage and transit of data between cloud environments.  
And it's probably fair to say that this has also added an extra barrier to getting the right talent in, even if you do manage to find professionals in this talent-scarce ecosystem. In fact, our Nigel Frank Careers and Hiring Guide: Microsoft 365 & Azure Edition 2021-22 revealed that 59% of respondents claimed a lack of appropriate skills internally to be the core reason behind implementation issues. This further highlights just how difficult it is to get the right talent into businesses, particularly during this period.  
How organizations can navigate the Great Resignation
For any organization using Microsoft, it's clear that the uptake on the cloud products and services from other businesses has put a strain on the available talent—and the professionals that are available for work are being poached by companies who can afford to offer larger, more exciting perks. But luckily, this doesn't have to mean you have to be offering the very highest salaries. 
We've rounded up a couple of our top tips for tackling the talent shortages and minimizing the impact of the Great Resignation to your business.
1. Clarify your company's mission and values
Nothing will be as demotivating to your staff as working aimlessly with no real feeling that the work they're doing is connected to your goals or helping anybody else along the way. As humans, we like giving back to others and being part of something good, and this is particularly the case for Millennials and Gen Z workers who are very headstrong in their opinions—particularly about the environment, rights, and equality. And considering that a large percentage of the global workforce is made up of both generations, it's even more crucial than ever to show them that you aren't just taking performative action, but rather have a genuine passion and drive to help where can.  
While your primary business goal will be to stay afloat, having initiatives in place that are in line with the goals you have is important. For example, if your business is big on sustainability, looking for ways to reduce your carbon footprint should be at the forefront of all your processes—and this includes looking for ways to minimize your digital footprint, too. By already using the cloud and removing the need to store any hardware, you're already helping to revolutionize the IT industry, choosing a greener option and contributing towards the massive saving of more than 59 million tons of CO2 in doing so (Plain Concepts). 
2. Offer perks that compete in the post-pandemic world
Although professionals are never likely to turn their nose up at financial incentives such as a competitive salary, bonuses and commission, the pandemic changed the wants and needs of workers and job seekers across the globe. Where businesses could previously win candidates over the competition simply by offering a bigger pay packet, the offer of more flexible working arrangements and the possibility of remote working are reigning supreme.  
From the Microsoft professionals who responded to our Nigel Frank Careers and Hiring Guide: Microsoft 365 & Azure Edition 2021-22, 38% would be enticed to accept or consider a new role if homeworking was offered as a perk, with 22% saying the same would apply if they were offered flexible working hours.  
As well as flexible working location, 27% of respondents also ranked four weeks or more paid time off (PTO) to convince them to change companies—which again reaffirms the importance for more freedom and a better work-life balance. 
By keeping up with research into the industry, reading our blog on the top 5 employee perks you should be offering in 2022, and by asking your current workers outright for feedback, you can create a great benefits package that appeals to the modern workforce and win over talent. 
3. Widen the net to attract more diverse talent
A big part of the hiring crisis is that organizations are relying on old hiring techniques to acquire new talent—and while this may have somewhat worked in the past, with the modern workforce's needs changing and a much more widespread acceptance of what it means to be inclusive, you could need to alter your recruitment processes. 
This can refer to something as simple as revisiting your recruitment and marketing materials and ensuring these couldn't be interpreted as aimed at one type of person only. For example, if your ads only include images of white males, it's unlikely you're going to attract talent that identifies as another gender, or is from other cultures, ethnicities, and backgrounds. This puts extra constraints on an already limited choice of professionals. Similarly, if you are using language in your job ads that could be considered to be gendered, this can put people from the opposite gender off from applying. For example, for women, words like "fast-paced" and "competitive" can come across as aggressive and signal to them that it's mainly a company for men. This again can mean you're missing out on some great talent.  
However, if you're willing to think bigger, and can, then offering remote work can not only be a great perk but give your business an advantage in driving more diverse talent from different geographical areas and backgrounds to your company. You can find out more about this in the blogs below: 
4. Keep communication channels open
Communication makes the world go round, and as we come out of the other side of the pandemic, it's becoming evident that professionals only want to be part of companies that are transparent and keep them up to date with important business matters.  
This certainly applies to your current staff who may be working away from the office all or part of the time, and therefore will still need frequent check-ins and one-to-one meetings where any concerns can be raised, and any feedback can be shared. Plus, it's the best way to understand how an employee wants to progress within your company and gives them an opportunity to work with their manager to establish a plan to help them get there. Not being given directions to follow or feeling devalued is a sure way to make your employees leave the business, so keeping them in the loop and helping them to achieve their career goals is crucial.  
Similarly, when it comes to your recruitment process, ensuring candidates are well-informed about the process that will follow, including deadlines and dates they should hear back from, is likely to see higher rates of applicants. Plus, if they read good things about you from current or previous employees, such as on Glassdoor or other review sites, they're more likely to want to join. So, by prioritizing communication with everybody who touches base with your company, it's a win-win scenario!
5. Move away from the idea of finding a "perfect culture fit"
We all have people we work with that we can see ourselves socializing with outside or at work, and those that we can't for no other reason than our personalities being different. And that's absolutely fine! But those who are unlike yourself, or your other employees should never feel left out, and is why it's so important to drop the idea of finding a "perfect culture fit" for your company and start hiring people based on their competency and what they can do for your business. 
We don't all like the same things or have the same hobbies. Ultimately, it takes all sorts to make a world. So don't discount talent that seems more introverted than the rest of your team—if they can do the job to the standard you need as an employer, and have the skill set to succeed, they are worth investing in.  
The Great Resignation has created a huge barrier for all industries, but with the demand for Microsoft cloud products and services growing exponentially yet disproportionately against the amount of available talent, it's important that your business is equipped to deal with the effects—and know how to tackle the issues that arise from it.  
We hope you've found this article useful and feel confident in finding the talent you need despite the ongoing talent shortages and challenges in the ecosystem currently. But if you're struggling to find the Microsoft professionals you need for your business, we're just a few clicks away.  
We have plenty of hiring advice on our blog including that should help you get started, or if you'd prefer to discuss optimizing your recruitment strategy with us directly, you can fill in our contact form and we'll get back to you within 24 hours.  
If you know what kind of candidate you need, feel free to browse our extensive roster of Microsoft professionals yourself and we can work together to land you the talent you want and need. 
Need help sourcing Microsoft professionals for your team? We can help!
More choice than any other agency and many candidates ready to start immediately.