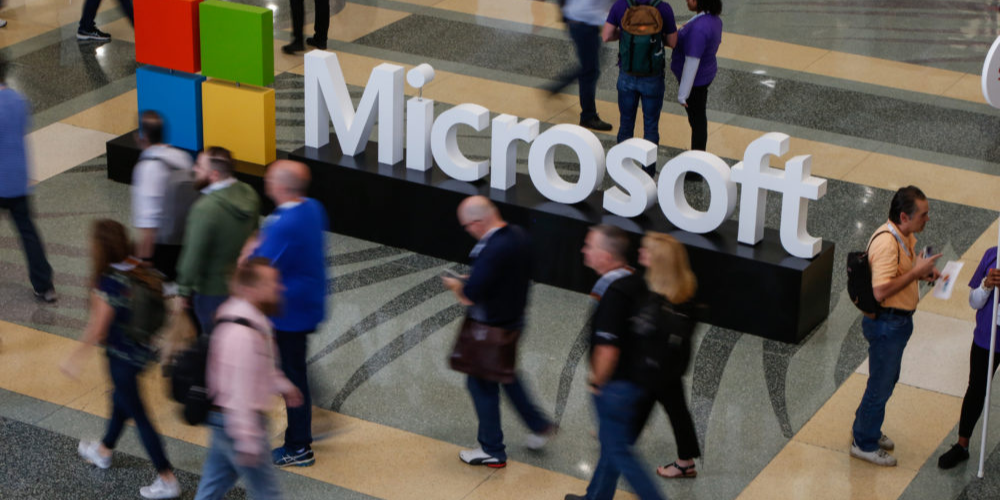 Attended by a crowd of over 25,000 earlier this month, Microsoft Ignite 2019 put the tech giant's Azure platform at the forefront of proceedings, with the cloud-based service arguably the star of the show at the Florida event.
The annual showcase gathering, which took place in Orlando between November 4–8, was attended by the usual mix of IT pros, developers and industry insiders from across the Microsoft community, and they were treated to a number of reveals and announcements—many of which focused heavily on the Azure brand.
Perhaps not surprisingly, Ignite was something of a news fest, with numerous sessions and workshops aimed at bringing attendees up to speed with developments in what is an ever-changing, ever-evolving sphere.
As the dust settles on another year, we couldn't think of a better time to take an up-close look at the topics and talking points that grabbed all the headlines at the Orange County Convention Center.
So here, in no particular order, are six things we learned from Microsoft Ignite 2019. Let's start with Azure:
1. Azure Arc
One of Microsoft's box-seat announcements was the introduction of Azure Arc—in short, the company's answer to AWS Outposts and Google Anthos.
Providing users with a single Azure interface through which to manage a multitude of clouds, including Amazon Web Services and Google Cloud, as well as databases, Kubernetes clusters, and servers, Arc extends the ability to organize and govern from a single place.
Essentially, we're looking at a single control center that allows central management across on-premises, multi-cloud and edge, while also facilitating an expansion of Azure Stack offerings.
According to Azure Corporate Vice President Julia White, Microsoft has "taken a significant leap forward to enable customers to move from just hybrid cloud to truly deliver innovation anywhere with Azure.
"Arc is a set of technologies that unlocks new hybrid scenarios for customers by bringing Azure services and management to any infrastructure."
Azure Arc for management of Windows and Linux servers on any infrastructure is available in preview now, while Azure Arc for management of Kubernetes clusters is available in preview.
2. Azure Synapse Analytics
Promoted as "simply unmatched" and "truly limitless" by Microsoft, Azure Synapse Analytics essentially brings together data warehousing and big data analytics to allow enterprises scope and freedom when querying data.
Integration with Azure Machine Learning means it can also better predict outcomes through the same system, and in simplified terms is the next phase of the evolution of Azure SQL Data warehouse.
It is also the first (and only) analytics system to have run all TPC-H queries at petabyte-scale.
Customers already running data warehouse workloads have been reassured in terms of existing workloads in production, and will begin to reap the benefits from some of the fresh features currently in preview, including Power BI, Azure Machine Learning and Apache Spark integration.
According to Microsoft: "The Azure Synapse studio provides a unified workspace for data prep, data management, data warehousing, big data, and AI tasks. Data engineers can use a code-free visual environment for managing data pipelines. Database administrators can automate query optimization. Data scientists can build proofs of concept in minutes. Business analysts can securely access datasets and use Power BI to build dashboards in minutes, all while using the same analytics service."
3. Azure Stack Hub and Stack Edge
The services formerly known as Azure Stack and Data Box Edge have undergone something of a rebrand, as Microsoft move to ensure that the cloud platform really is adaptable, whatever the environment.
Extension Azure Stack Hub (previously Azure Stack) gives users a defined choice of accessing Azure tools from a cloud service provider or their own center, and is an ideal environment for Arc, while Azure Stack Edge (formerly Data Box Edge) is an AI-enabled, hardware-as-a-service, cloud-managed device with a built-in FPGA boasting all the capabilities of a storage gateway.
What this means is nicely defined by Stephen Sennet and Ned Jamieson, from certification training hub A Cloud Guru. "There are still plenty of organizations unable to leverage cloud solutions for their workloads," they said. "Where data sovereignty, security, specialized hardware, or extremely remote locations exist, the cloud is still a distant reality for many.
"Enter Azure Stack, bringing the cloud to you. Where Azure Stack Hub has been available for a while at high costs, Azure Stack Edge bridges that gap further by dropping the price. This allows companies to bring machine learning into their workloads, whether they're incredibly secure (for example, analysis of highly classified information), or extremely remote (like, say, analyzing the systems on a cargo ship in real-time). The days of 'we can't use the cloud' are rapidly coming to a close."

Elsewhere …
4. Visual Studio Online
Away from Azure, another head-turning reveal came in the shape of Visual Studio Online, which brings together Visual Studio, cloud-hosted developer environments, and a web-based editor. Accessible from anywhere, in the words of Microsoft it is designed "to help developers be more productive."
Isolated, pre-configured development environments for a repo can now be turned around in minutes, and from anywhere, while environments are fast to create and disposable, allowing new team members to quickly onboard to a project.
Developers can create Visual Studio Online environments directly from Visual Studio Code or via visualstudio.com, using common templates or cloning from a GitHub repo. These environments are provisioned in Azure and securely connected to development environments, while your own physical or virtual machines can be attached to your Visual Studio Online account.
More Microsoft technology professionals than anyone else.
Browse pre-qualified candidates now and find the talent you need to transform your business.
5. Project Cortex
Microsoft's first commercial service release since 2017's group chat software Teams, Project Cortex is billed as "a new service in Microsoft 365 that empowers people and teams with knowledge, learning, and expertise, in the flow of their everyday work."
Translation? It creates a network of knowledge, using advanced machine learning and AI algorithms, by digging into existing repos and inspecting various documents, before floating information to the surface via Outlook and other Office apps.
Jared Spataro, Corporate Vice President for Microsoft 365, says: "It delivers relevant knowledge to people across your organization through topic cards and topic pages in the apps they use every day.
"In addition, Project Cortex enables business process efficiency by turning your content into an interactive knowledge repository—with innovations in smart content ingestion—to analyze documents and extract metadata to create sophisticated content models."
Project Cortex is currently in private preview and will be made widely available during the first half of 2020.
6. Cortana
Having widely acknowledged that Cortana is not positioned to take on the might of Amazon's Alexa, Apple's Siri or Google Assistant, Microsoft unveiled a new direction for its own personal, virtual assistant.
Its primary function as of the end of January 2020, when iOS and Android support is wound down and support for Cortana's mobile app is pulled, will be deeper integration with Microsoft 365 productivity apps that assist business users, such as email.
According to Microsoft itself, Cortana will "send daily heads-up emails that help you prepare for meetings, stay on top of tasks, and manage your time. Cortana can detail your tasks—based on commitments you have made in previous emails—and provide a convenient way to mark them as 'done' or book focus time."
They also revealed its compatibility to coordinate with Scheduler, which is now available in preview.
In a statement made to TechCrunch, a Microsoft spokesperson said: "Cortana is an integral part of our broader vision to bring the power of conversational computing and productivity to all our platforms and devices.
"To make Cortana as helpful as possible, we're integrating Cortana deeper into your Microsoft 365 productivity apps, and part of this evolution involves ending support for the Cortana mobile app on Android and iOS."
Photo credit: Microsoft.
Download the Microsoft Azure Salary Survey
Fill out the form below and download a copy of the full Microsoft Azure Salary Survey report, including more information about the Azure community and salary data from thousands of Azure professionals around the world.