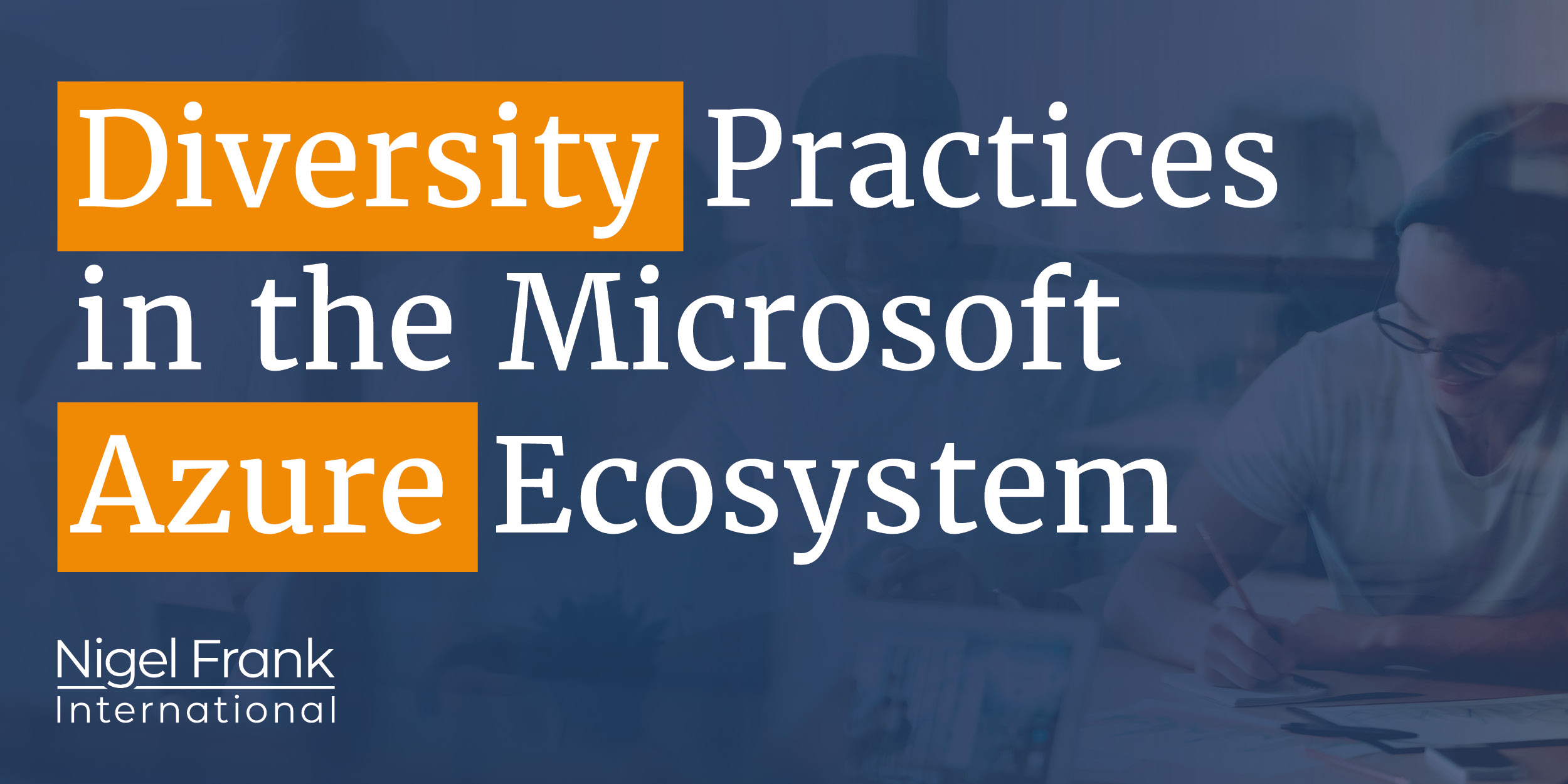 The tech industry offers a wide range of exciting, rewarding, and challenging job roles but, sadly, a lack of diversity means that some people find it harder to carve out tech careers than others. Despite many pledges to promote equality throughout the sector, the vast majority of firms are made up of a homogeneous workforce.
At tech giant Google, for example, just 32.5% of employees are women, while only 5.5% and 6.6% of professionals identify as Black or Black and any other race, Latinx or Latinx and any other race, respectively. However, Google's lack of diversity isn't unusual. In fact, the tech sector is predominantly comprised of White or Caucasian males, particularly at executive or leadership levels.
With white males accounting for 83% of tech executives, it's clear that diversity, equality, and inclusion (DE&I) practices need to be reviewed and implemented more effectively from the top down. Furthermore, companies must recognize the intrinsic benefits that arise when diverse teams are cultivated and developed.
How diverse is the Microsoft Azure ecosystem?
Unsurprisingly, the Azure ecosystem reflects the existing lack of diversity throughout the industry, with white males making up the proportion of professionals in this sub-sector. In our Careers and Hiring Guide: Microsoft 365 and Azure Edition, we invited 620 respondents from a range of professional and personal backgrounds to participate.
Subsequent analysis showed that 87% of respondents were male, 59% were White or Caucasian, 40% hold a bachelor's degree, and 30% hold a master's degree, mirroring the homogeneous workforce that we routinely see throughout the industry.
Just 4% of those surveyed were aged 18-24, which is perhaps indicative of a lack of entry level roles throughout the ecosystem, despite 58% of respondents stating that a degree isn't important for working with Microsoft 365 and Azure.
It is also notable that 90% of participants reported that they do not have a disability or long-standing illness or infirmity, with a further 5% preferring not to answer this question. With only 5% of respondents confirming a disability or long-standing infirmity or illness, it seems indicative of a wider lack of diversity in this respect, also.
Is the skills gap fueled by a lack of diversity?
The tech industry has grown at a rapid rate and according to Deloitte, will continue to do so—so much so that many sub-sectors are struggling to train enough IT professionals to fulfill the roles that are available. As a result, 3 out of 4 IT decision-makers are negatively impacted by skills gaps as they strive to attract and retain top talent (Skillsoft).
However, it isn't just a rising number of positions and an alleged shortage of candidates that is contributing to the skills gap throughout the industry. Instead, it is likely that a lack of diversity is fueling the skills gap and preventing companies from accessing the high caliber candidates they claim to be searching for.
If companies will only hire Azure professionals who hold a degree, for example, this means they overlook a significant number of talented Azure specialists who could deliver measurable value to their organization. When we delve deeper into the socio-economic factors that enable people to engage in further education, we can see how inequality prevails at varying stages.
Although college enrolment statistics show a more diverse student body, 33% of White Americans aged 25 and over have a bachelor's degree, compared to 16% of Hispanic Americans and 19% of Black or African Americans. When companies only consider candidates with a degree, therefore, they may be inadvertently fueling a lack of racial and ethnic diversity in their own workforce, as well as reduced cognitive diversity.
By promoting diversity, however, companies can achieve inclusivity, hire employees based on their skill set, and successfully overcome the skills gap to build dynamic teams.
Eliminating recruitment bias
When bias affects the recruitment process, it often happens unconsciously. This means that recruiters may not mean to be biased but their judgment is influenced by factors they are unaware of. Expectation anchor bias can occur when a recruiter focuses too heavily on one particular factor while excluding other relevant criteria. Alternatively, the contrast effect can mean that recruiters compare candidates to other applicants, rather than assessing them individually and in isolation.
Clearly, recruitment bias can have a negative impact on the hiring process and may lead to inequality. Furthermore, some types of bias contribute to a lack of diversity in the workplace. When employers are affected by affinity bias, for example, they are drawn to candidates who are similar to them in one way or another. As a result, hired employees all tend to have notable similarities, rather than bringing diversity and variation to the team.
Due to the impact of bias in the recruitment process, it's vital to implement effective practices to eliminate it, such as:
1. Removing identifiable information from resumes
When candidates submit resumes, identifiable information, such as names, addresses, and ages, can be removed so that organizations only have access to the data that really matters, such as an applicant's professional experience.
Companies can even go one step further and exclude additional information such as academic achievements if they want to maximize diversity and base their hiring decisions on practical experience and project expertise.
2. Use data-driven analysis
Instead of relying solely on human decision-making to determine which candidates proceed to the next round or are offered a job, companies can use data-driven analysis to make recruitment practices fairer.
Awarding points based on relevant factors, such as the amount of experience and Azure certifications and skills, could allow candidates to be assessed fairly, without the risk of bias, for example. Furthermore, assessing candidates in this way can accelerate the recruitment process and enable organizations to find talented Azure professionals more quickly.
3. Using standardized testing
When assessing potential new hires, many companies ask applicants to complete a series of tests or challenges. This can be an effective way to verify a candidate's ability and ensure that they have the requisite skill set for the role, but it can also be a viable way to eliminate bias.
If all candidates are asked to complete the same standardized testing and assessed in the same way, bias cannot impact the results. Providing test outcomes are used to judge candidates fairly, this can be an effective way to prevent bias from influencing your hiring decisions.
Nurturing a diverse azure team
Diversity, equality, and inclusion are clearly important throughout the recruitment process, but it is also something that companies should focus on in relation to employee satisfaction and staff retention. To achieve gender diversity, for example, businesses must ensure that female employees have access to suitable working arrangements that will allow them to take maternity leave if they choose to do so.
If companies want to retain diverse teams, then nurturing talent and providing long-term support is critical to success. From established mentorship programs to equality in career progression and diverse leadership teams, there are many ways that organizations can improve diversity and maximize retention.
The benefits of a diverse team
Although diversity and equality are important in their own right, increased inclusivity can also offer commercial benefits. A study by McKinsey has shown that diverse workforces tend to perform better and achieve higher profitability, for example.
When a company has a diverse workforce, it tends to achieve cognitive diversity, which means that employees have different thinking patterns, perspectives, ideas, and approaches to problem-solving. As you might expect, this diversity leads to increased innovation and enhanced performance, with diverse companies generating cash flows 2.3x higher than non-diverse organizations.
In the tech industry, where emerging solutions routinely create new markets, the increased innovation associated with a diverse team should never be overlooked. With diverse businesses 70% more likely to capture new markets, the potential for diverse tech brands to become market leaders highlights how DE&I can benefit businesses, as well as employees.
The benefits and importance of building a diverse workforce are clear, so why not start diversifying and enhancing your team of Azure professionals today? At Nigel Frank, we're committed to promoting diversity throughout the recruitment process and routinely help clients to diversify their tech teams to optimize performance.
With a global network of more than 300,000 Microsoft professionals, our talent pool gives you instant access to talented professionals with the skillset you need. To learn more, get in touch with our friendly team to get started, or browse our extensive roster of candidates now.
Looking for fresh Azure talent to join your team?
More choice than any other agency and many candidates ready to start immediately.