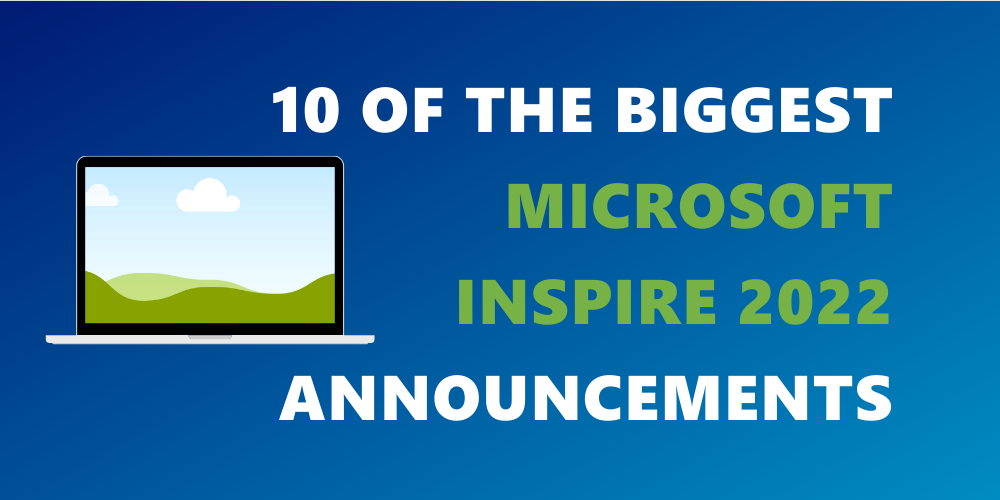 The Microsoft Inspire conference has been and gone for another year. And while this year was another virtual event, there was more than ever to digest from the world's largest partner event.  
You might have caught our pre-event blog post detailing what you should have on your Microsoft Inspire 2022 agenda, and if you did, we hope our tips and tricks helped you to get as much as possible out of the conference. And if you didn't quite make it this year, we hope this blog post can fill you in on what you might have missed.  
From new innovations coming to popular Microsoft products, to brand-new platforms, and additional functionalities that'll make it easier for remote workers to collaborate from different locations, Microsoft unveiled plenty of exciting launches that are already happening, and those still in the works.  
1. Microsoft Digital Contact Center Platform will improve customer experience
One of the biggest Microsoft Inspire highlights was the announcement of the new Microsoft Digital Contact Center Platform. Powered by AI, the new offering combines technology from Teams, Azure, and other portfolio products with the newly acquired voice-to-text company, Nuance.  
The new platform has been built to facilitate several purposes, including using Microsoft's existing Context IQ feature to predict customer requests and the intent behind these. The overarching goal? To provide a faster, more personalized customer service experience, as well as having the option to offer targeted incentives that will increase customer loyalty and upsell opportunities to encourage higher revenues. Users of the platform will receive insights about each customer's journey which they can use to better enhance their service.  
In our opinion, this sounds like a game-changer for e-commerce sites!
2. Azure has launched their Space Partner Community Program
Another intriguing Microsoft Inspire announcement was the Azure Space Partner Community Program, which aims to provide exclusive access to technical support and scaling services for all community members within the Space Partner ecosystem.
Each member will receive a wide range of benefits, from Azure Space training to private preview programs, as well as product integration and access to add-ins for a range of apps. Plus, with onboarding help and support also available, members of the Space Partner community won't be short of things to learn.
3. Microsoft Cloud for Sovereignty has been designed to support the government sector
A key Microsoft Inspire highlight for anyone working within the government sector was no doubt the reveal of Microsoft Cloud for Sovereignty.
Designed to allow customers in the public sector to build and transform their workloads within Microsoft Cloud, the tech giant hopes that this new tool will help workers in this space to streamline and protect their sensitive data.  
This comes as part of Microsoft's move towards a range of industry-focused cloud packages including those for the healthcare and non-profit sectors.
4. Teams will be launching shared channels for better collaboration
Microsoft has teased a future opportunity for Teams users to collaborate with people outside their registered organization which is set to be available generally in the fall of this year.
The tech giant explained that users will be able to connect and bring people together in one shared space, whether that's to co-author files, develop apps together, chat, meet, or share. And with Microsoft announcing in January of this year that the number of active Teams users had surpassed 270 million as of its second quarter in fiscal 2022, we're not surprised that they're looking for new ways to develop the software and generate even more revenue from it.  
5. Teams will be bringing social networking to the workplace with Viva Engage
Another great piece of Microsoft Inspire news that's worth highlighting from the innovators behind Microsoft Teams is that it will soon be adding a social networking function to Viva.  
Harnessing the power from Yammer, the aim of this added functionality is to help organizations ensure they're able to create a thriving culture, no matter what their working arrangements look like. By empowering people and allowing them to be heard and express themselves in the workplace, the tech giant aims to make workplaces around the globe more inclusive and accepting.  
And as strong advocates for equity, diversity, and inclusion ourselves, we can't wait to see how the results of this levels the playing field in the ecosystem!
6. Excel Live will allow workbook collaboration in real-time
Excel Live was announced as building upon the Live Share in Teams feature that was earlier unveiled at Microsoft's Build 2022 conference in May—you can read all about it in their Book of News.
The aim is to allow workers to collaborate better by giving them a tool that allows them to edit Excel workbooks in real-time while Teams meeting windows are open, furthering transparency and clarity of data sets between workers.
7. Video Clip and collaborative annotations have been rolled out
A Teams innovation we just had to mention as part of our biggest Microsoft Inspire highlights.
Microsoft has rolled out a new feature called Video Clip which allows users to record, send, and view short video clips in Teams. This can then be played back by the recipient at any time. The hope for this new functionality is to make collaboration easier, and quicker, where a full video call may not be necessary or viable.  
And to further deepen the collaborative nature of Teams, Microsoft has also introduced an annotation feature where all users can draw, type, and react on top of content that's shared through harnessing the power of Microsoft Whiteboard. This is something we're particularly excited about as it'll remove some of those barriers organizations were worried would impact how much teamwork could happen virtually, and further prove that more flexible working policies work.  
8. Viva Goals will help align and drive strategic decisions
The Microsoft Viva employee experience platform is set to get even better come August 1st this year. Microsoft announced during Inspire that they would be releasing a new feature called "Viva Goals".  
This new functionality will provide a goal setting and management solution for organizations to ensure all your team's activity can be aligned to meet shared goals and drive results.  
And with Microsoft's CEO Satya Nadella previously highlighting Viva as a new growth tool that'll help navigate and meet the demands of hybrid work, this newcomer product may be one for organizations across the globe to watch going forward.  
9. There will be larger incentives for Azure Migration & Modernization Programs
Microsoft's Azure Migration & Modernization Program (AMMP) is used by more than 500 partners, so it's no surprise that the tech giant wants to continue developing the program to provide even more opportunities to its users and further the number of partners using it.
One Microsoft Inspire session described how Microsoft will be increasing the number of larger incentives being awarded to those who carry out Windows Server and SQL Server migrations. This new plan aims to encourage more Microsoft sales organizations to locally allocate incentives for their areas and to provide partners with more updated best practices, and new Azure Migrate functions, such as the opportunity for ISVs to integrate their own intellectual property.
10. The ISV Success Program will help in building and publishing applications
Microsoft is lending a helping hand to ISVs this fall by adding new capabilities to its ISV Success Program to help them build applications and publish them on the commercial marketplace. The program is currently in preview and should be available later this year, giving ISVs the chance to access things like cloud sandboxes, developer tooling, and both technical and business resources.
The tech giant also announced it would be making industry designations later this year that will benefit and reward successful ISVs depending on aspects such as their performance with customers, and their technical maturity. The first designations expected to be rolled out will be targeted for health care, retail, and finance sectors.  
There you have it! 10 of the biggest Microsoft Inspire announcements from the 2022 conference. We're so excited to see how these new additions to Microsoft's product and service offerings will redefine the space and are looking forward to hearing the great results we're sure will be seen from these.  
Want to stay in the know with Microsoft events? Be sure to check our Nigel Frank blog for frequent updates—from pre-event blogs to key take home posts, you don't want to miss our coverage of some of the ecosystem's biggest and best events.  
Need help with sourcing talent for your Microsoft business? We can help!
More choice than any other agency and many candidates ready to start immediately.