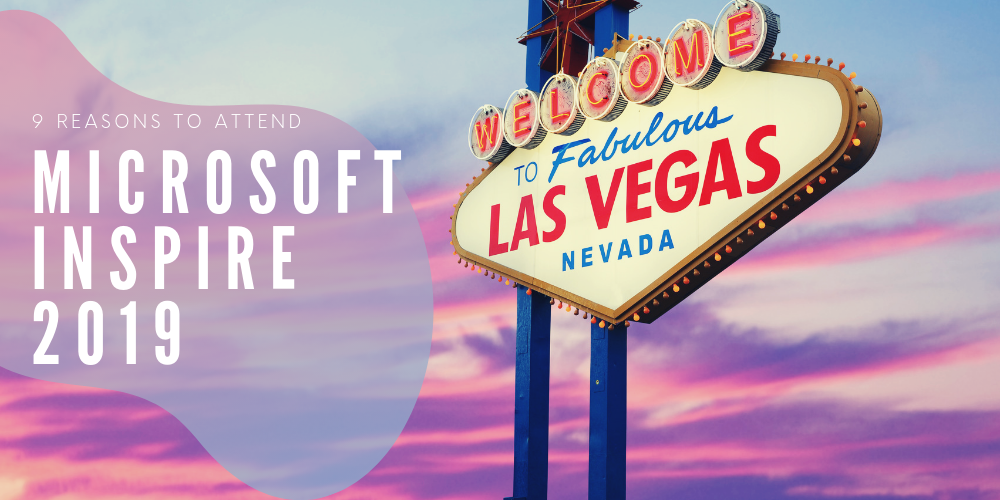 If you work in the Microsoft ecosystem, you've heard of Microsoft Inspire. Maybe you've even attended in the past.
The largest annual Microsoft event in the world, Inspire brings together Microsoft partners from around the world to network, learn, and party. Inspire is where Microsoft sets out its vision, previews new innovations, and delivers big news that affects the whole community.
This year, Inspire takes place in Las Vegas between July 14-18, and expects to welcome thousands of partners from over 130 countries.
A mixture of informative sessions, exciting keynotes from some of tech's biggest names, and opportunities to cut loose and meet fellow Microsoft professionals, attendees are guaranteed to come away more informed, more connected, and more motivated than when they arrived.
Considering making your first trip to Inspire? Or need a little inspiration to return? Here are just a few reasons to attend what might be the best Inspire yet.
Get the inside scoop
Inspire is where Microsoft unveils its biggest developments and plans for the coming year, including new products, changes to its partner and sales models, and shifts in direction.
If you want to get hands-on with the latest tech before anyone else and get the jump on what's coming soon, Inspire is the place to be. Getting up close and personal with devices, apps and services that are on the horizon gives you a chance to feed back to your customers and users.
Choose from hundreds of informative sessions
There are already more than 440 sessions on offer at Inspire, with more to be added before the event kicks off.
Sessions are split by Microsoft's core productivity themes:
Modern Workplace (Microsoft 365, Office 365, Teams)
Business Applications (Dynamics 365, Power Platform)
Data and AI (IoT, analytics, mixed reality, machine learning)
Applications and Infrastructure (Cloud infrastructure, migration, development, security)
There are several session types to choose, from presentations and group discussions to practical workshops and immersive demos, so you can choose to access information and learn new things in whichever way best suits you.
Each session has a dedicated business outcome, so you know exactly what you'll take away from it, and whether it'll be valuable to your business.
To make sure you're getting access to the most relevant content, you can choose sessions explicitly created for your partner type, with sessions tailored for ISVs, managed service providers, and resellers to name just a few. You can drill down even further and find sessions to suit every arm of your business, from sales and services to marketing and finance.
Partners with a specific industry focus—retail, health, education, or government, for example—are catered for too, with a range of sector-specific sessions available.
Check out the new tricks
Microsoft has always been committed to listening to its partners, and that applies to its events too. Based on attendee feedback from the past few years, Microsoft has made a few changes for 2019 to make the Inspire experience even better.
There's still just as much going on, but the Inspire schedule has been revised and simplified to give attendees more time to socialize, meet their peers, and make connections. Inspire is now a half-day longer so you can do more of what you like.
The Microsoft Inspire and Microsoft Ready expos have been rolled into one centralized super expo, so it's easier to navigate, and attendees can encounter more Microsoft employees,  sponsors, and other businesses. The expo has also been split into regional blocks, helping attendees connect with other professionals and organizations from their area.
There's a new central meeting space too, The Hub, and the event's famous One Celebration closer (more on that later) has been ported to a more convenient location at Las Vegas Festival Grounds to make getting to and from the biggest party of the year a little smoother.
Hear from amazing speakers
As always, Inspire 2019's speaking line-up is a veritable who's who of Microsoft royalty. As well as rousing keynotes from CEO Satya Nadella, President Brad Smith, EVP of Commercial Business Judson Althoff, and Corporate VP for One Commercial Partner Gavriella Schuster, attendees will also get a chance to hear from a broad array of trailblazers from a multitude of spheres, from business and tech leaders to inspiring advocates for global change.
Expect to attend outstanding talks from the likes of: best-selling author Simon Sinek, leading authority on inspirational leadership and organizational management; author, psychotherapist, disability rights advocate, and extreme athlete Rebecca Alexander; Jacqueline Jones, Head of Strategic Partnerships for Global Diversity, Inclusion, and Belonging at LinkedIn; bestselling author and champion for humanizing organizations Polly LaBarre; and Dr. Kendrick Wong, TalentSmart's Director of Training.
More Microsoft technology professionals than anyone else.
Browse pre-qualified candidates now and find the talent you need to transform your business.
Grow your network
There's nothing like getting together with your peers and meeting other Microsoft professionals in person to build your network. And there's nowhere in the world where you'll find more Microsoft-related businesses in one place than at Inspire.
The event is positively buzzing with business development opportunities, whether you're a sponsor or you're just hanging around The Hub and chatting with new people.
If you're looking for a more structured, but still friendly, way to connect with other business, you can head to the SMC Sales Center. A dedicated business development unit, the center is your one-stop-shop for personalized advice directly from Microsoft on solution areas, territory planning, and sales plays. You can also meet other partners and share information on programs and investments, or connect face-to-face with Microsoft account executives, solution specialists and channel managers to help create or boost your business plan.
Rock out at One Celebration
The jewel in the Inspire crown, One Celebration is an epic party to close out the event with a bang.
A chance to kick back and celebrate another great year for Microsoft partners, One Celebration is a night of entertainment and socializing, topped off with a massive musical performance. Some of the biggest names around have played at One Celebration, and this year is no different: attendees can expert a dazzling show from Queen + Adam Lambert to round off their 2019 Inspire experience.
Get a helping hand
Microsoft works hard to make sure that every attendee's visit to Inspire is a fantastic one.
If you're heading to Inspire for the first time, the sheer scope of the event can be intimidating. There's so much to see and so much to do, it's all too easy to get overwhelmed and miss out on great experiences.
That's why Microsoft has created the First Time Attendee program, buddying up the uninitiated with seasoned partners to help them navigate the conference, introduce them to other professionals, and make the most of their time at Inspire.
First-timers will get tips and advice ahead of time, invitations to orientation sessions on arrival, attend meetups throughout the event, and get help from the pros to create a post-event action plan to maximize the value of everything they've learned.
From orientation sessions to post-event planning help, the FTA program will make your experience easy and productive. Sign up for the FTA program during registration.
There's no extra charge to participate in the First Time Attendee—just opt-in during registration.
Explore Las Vegas
This year, Inspire will take place at the Mandalay Bay Convention Center, right at the heart of the action. Renowned for its hospitality and wealth of things to do, attendees will be a stone's throw away from everything the city has to offer, from golf and casinos to sightseeing and stunning shows. Take a helicopter across the Grand Canyon, explore the Strip, treat yourself in world-class shopping malls; it's all going in on Vegas.
Attendees will also get access to a heap of exclusive offers and discounts too, so keep your pass handy!
Made up your mind?
Register here.
 If you're attending Inspire 2019, be sure to stop by
Booth #715
and say hello, pick up some swag, and grab a copy of our brand new Microsoft Dynamics and Microsoft Azure salary surveys.