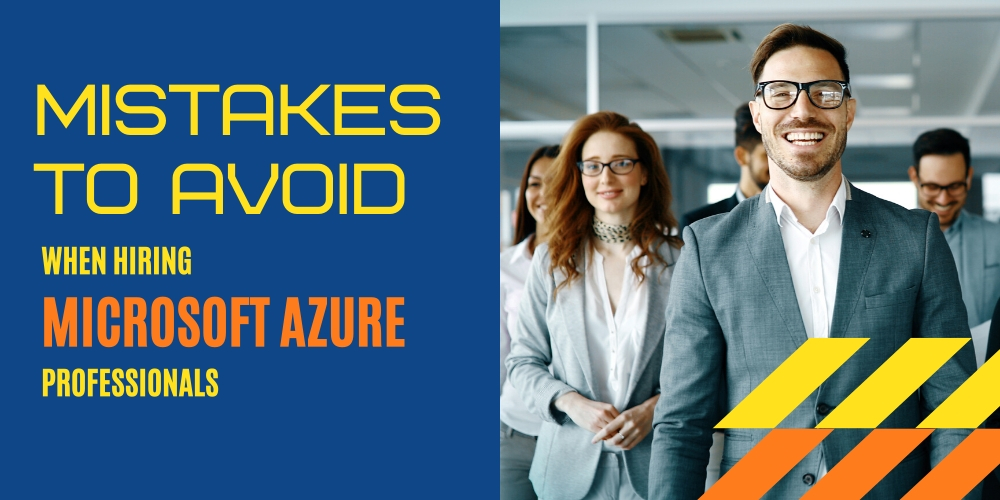 Hiring Microsoft Azure professionals can be a challenging and costly process if you don't avoid the common pitfalls. Fortunately, Azure recruitment specialist Carlie Devlin has provided her top tips for getting the best Azure talent in your business without exhausting your budget or your patience!
There's no dressing it up; a new Microsoft Azure build can be a daunting task. Whatever the company, whatever the size, switching existing data banks to your all-new cloud system can be a fraught process full of pitfalls that can test a firm's resolve.
A successful implementation takes an advanced level of expertise, and it is this reliance on proficiency that has the potential to throw you a curveball and undo those best-laid plans–a consequence that often leads to an increase in those old business adversaries of time and money.
Without the necessary skillset and levels of understanding on board, complex projects can rapidly unravel–all of which makes hiring the right people with the right amount of technical knowhow an absolute must.
Here to wade alongside you through this minefield is Nigel Frank International Cloud and Security Manager, Carlie Devlin, who offers expert advice to help iron out the creases of a new Azure build.
Be prepared to spend money
From the outset of any Azure build, hiring on the cheap creates expensive mistakes, and the likelihood is you'll need to get a contractor in to fix things at greater expense further down the line.
If you're a small-to-medium business, candidates from enterprise firms may not be the best fit. They are often used to being part of a larger team, where responsibilities can be shared across 20-30 people. This isn't to say, however, that you should rule them out completely, particularly if you're trying to get your business enterprise-ready.
Likewise, those provoking interest from smaller firms are often under the impression that the financial reward won't be as great, but that's not always the case if you're solely responsible for migrating an entire platform. On the flip side of this, those from smaller entities may have overseen entire transformations, so could add some much-needed value to a larger outfit.
If smaller businesses spend more on the first expensive hire, the rest can be done within a strict budget because that senior can train and set the bar for the rest of the staff.
Don't get hung up on certifications
Small-to-medium businesses have small teams, and that often means engineers simply haven't had time to leave their posts and pick up a multitude of certifications.
New hires should certainly have some in their armory, but don't get fixated on candidates having a certain number of certs.
Having said that, the Microsoft Certified Solutions Expert (MCSE) Productivity certification, which validates the skills required for a cloud transition, is advisable.
Even if a candidate has done parts of this cert, it shows a good level of proactiveness and demonstrates their passion for the technology.
Think outside the box
Let's get real for a moment. A certification will naturally earn you better status, but if you're an Azure engineer at a large company, when have you possibly got the time to go and get yourself certified? This is where potential employers have to think outside of the box.
Clearly a complete lack of any certifications would set the alarm bells ringing, as would an absence of any kind of exams, but if someone can prove they've done their research or perhaps has a lab set up at home, then that can often carry more value than a list of certifications.
Ultimately we're asking "can you do the job?", and applying a balanced approach to hiring your next Azure pro is highly advisable. Letting a "must have" mentality dominate proceedings in relation to certifications can often cloud the process.
Training is more important now than it ever has been
You should absolutely be prepared to pay to get someone up to scratch. Even if their last certification was two or three years ago, that's not the end of the world and those qualifications can easily be revamped.
Someone's capabilities are very hard to detect from a resume alone, and one thing to be aware of when you're pre-screening is a candidate's claim to have carried out a role, only to find they've done just a small element of it. This is quite common when candidates come from a large team background.
It is a tricky part of the process to navigate, but only a tech test will ultimately reveal what a candidate can and cannot do in terms of a migration.
Realistically, being part of a large team might equip someone with some of the tools, but doesn't necessarily mean they can migrate an entire environment.
If you're selling workplace flexibility, make sure you stick by it
This is a competitive market, and an 80 per cent fit can work perfectly well. You'll find staff are easier to retain if you're willing to give the candidate the extra 20 per cent that they need.
Companies that adopt a flexible approach often hang on to staff members a lot longer than others. We live in a modern world full of firms promoting modern workplaces. If you are one of these businesses, don't forget to practice what you preach.
If you're hiring for an enterprise company, don't rule out the "medium" guys
Larger firms will often insist on an engineer that has experience on projects involving 40-50,000 users because that's what their business entails, but some of the most complex projects can involve ten remote servers in the middle of nowhere.
Often, "medium" candidate options are immediately ruled out, but there's a chance they've been part of a very small team and handled every single complicated issue you can think of.
If they had ten other people to learn from at a much bigger firm, and they're used to being proactive and blurring the lines when they have to, then they shouldn't be penalized. If anything, it should be quite the opposite.
There is no uniform for Azure
It is a cloud platform that can be applied to any industry, so surely it is better to widen your parameters and apply a degree of flexibility to your "must have" list of requirements.
If we look at DevOps in Azure, for example, it's important not to become overly fixated on someone's industry background. Finance, marketing and legal are all hugely relevant and processes that only take two or three months can often be added to bring a candidate up to scratch.
If enterprise businesses simply insist on enterprise-level experience and isolate candidates just because they haven't dealt with 50,000 users, then the only logical response to that is "why?".
This is also a two-way street–many medium-sized companies won't hire enterprise candidates because they've been part of a huge team, but the more we move into Azure, the more blurred the edges should become when it comes to hiring.
Don't assume when it comes to time served
There's an assumption in Azure that you have to have served a certain number of years, but most developers have done the job without learning the methodology. This can see large numbers of candidates ruled out, but in reality a bit more flexibility and training is often all that would be needed.
A person might not be perfect according to their technical skillset, but they may have the personality to go out of their way to learn. Employers should put time aside to upskill their staff, because the alternative is playing the waiting game for the perfect candidate. That could take six months, in which time you could have trained someone to do a better job than the perceived perfect hire.
Retention within Azure has become a problem, and there's so much competition within the ecosystem, but staff development is a great way to inspire those already on your payroll to stay the distance.
Pushed for time?
If you're hiring a lot of people and time is against you, or if you're taking on lower numbers but there are a lot of interview stages to coordinate, online assessments and designated assessment days will help you narrow the candidate pool.
Enterprise companies generally benefit from this approach the most, but it can also work for smaller, more personable firms. In that instance it's important to gauge whether a person would be a good fit in terms of company culture and your team dynamic–particularly if that team is a small one.
Faced with 50-100 applicants for 5-10 roles, online assessments are a much easier first step for big businesses, but for smaller firms it can be more about how a candidate will fit into their ethos and their work community.
More Microsoft technology professionals than anyone else.
Browse pre-qualified candidates now and find the talent you need to transform your business.