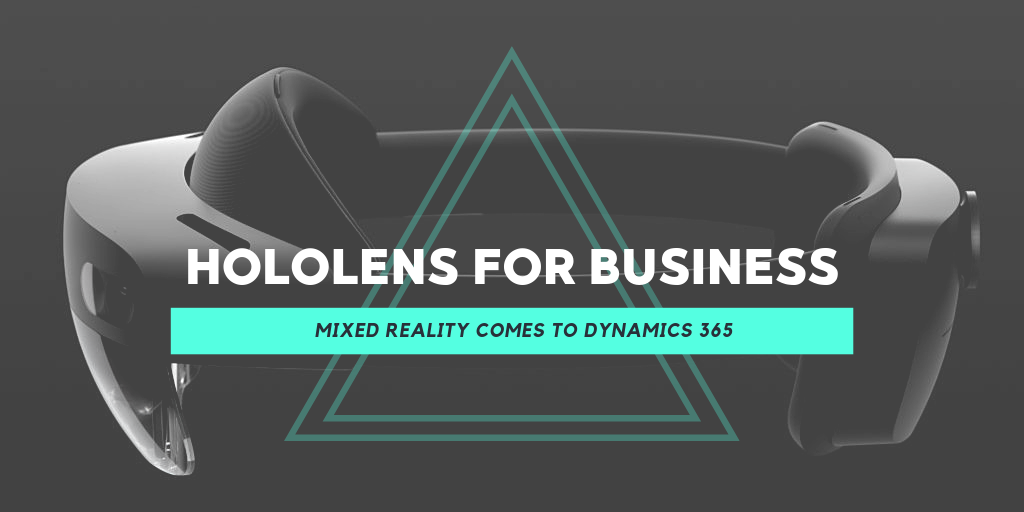 When Dynamics 365 was released in 2016, it was touted as the future of business solutions; a smart, cohesive platform that synced up CRM and ERP functionality and helped its users gain unprecedented oversight into their operations.
Since then, it's continued to push boundaries, infusing cutting-edge tech like machine learning and automation into its apps. Now, it's offerings users the opportunity to take advantage of even more futuristic technology: mixed reality.

Mixed reality and Dynamics 365
Microsoft took its first big steps into the realm of mixed reality in 2016, with the release of Microsoft HoloLens, a smartglasses headset that enabled the wearer to view and interact with anchored virtual objects and displays. HoloLens was the natural successor to the tracking technology seen with Kinect, the company's motion-sensing Xbox add-on largely used to control boogying avatars in video games.
But Microsoft had bigger plans for its mixed reality products than living room dance-offs.
In early 2018, the first of Microsoft's mixed reality apps for Dynamics 365 were launched in preview. The apps—Remote Assist and Layout—were created to mix the virtual world with the professional workplace, and make it easier to design spaces and connect field workers with the tools they need to work efficiently.
A year later, these apps have now hit general release and even have mobile versions available, lowering the barrier for business to adopt mixed reality using their existing devices. There are also three more mixed reality apps for Dynamics 365 currently in preview.
Today, at least outside of niche tech circles, mixed reality is still largely viewed as a novelty or something to be used for entertainment. But actually, there is a huge range of emerging business cases in which the technology could be folded into the day-to-day operations of all kinds of organizations to bridge the gap between the physical and digital worlds.
Ahead of the launch of its enterprise mixed reality apps, Microsoft did its due diligence, conducting massive amounts of research into how mixed reality could be applied in practical terms to solve business pain points.
During its exploration, Microsoft spotted four key areas of mixed reality use:
Remote assistance
Augmented reality remote assistance allows employees to connect with both customers and field technicians. Combining video streaming and augmented reality, remote assistance helps two people who may be miles away from one another to communicate, share visuals, guide and collaborate to solve problems more effectively.
Picture this: Andy's home printer isn't working. He calls the printer maker's support helpline and tries to describe the problem to Kelly, a customer service representative, but as Kelly can't see the printer, and Andy doesn't know his way around under the printer's hood, it's a challenge to work out what the issue might be.
With remote assist technology, Andy can use his phone's camera to stream video to Kelly so she can see exactly what he's seeing. Not only that, but with augmented reality, Kelly can guide Andy using AR graphics to demonstrate actions or highlight parts of the printer—if Andy doesn't know what, or where, the stabilizer bar is on his printer, Kelly can control a digital pointer and show him exactly where to look.
Training
Research suggests that learners retain knowledge 30% better when learning with mixed reality. Immersive learning is becoming increasingly popular, and mixed reality is a super effective way to visualize situations and put trainees into lifelike scenarios in a safe, controlled way.
Trainee first responders, for example, can learn how to deal with dangerous and high-stress scenarios like fires and chemical leaks without risk. Mixed reality lets them play out situations, interact with their environments and other learners, and solve complex problems with their own two hands.
Looking for your next great Dynamics job?
More choice than anyone other agency. Browse our jobs and find your dream role today.
Collaborative visualization
Collaborative visualization lets users share a physical space, see and interact with various types of content in real-time, and communicate as though they were in the same place. It's a transformative way of understanding and collaborating on things like product design and data analysis.
In the age of big data, information is no longer corralled into spreadsheets, it can be visualized in a multitude of ways that help people interpret information and spot important trends. Mixed reality takes that a step further, allowing users to throw these visualizations into physical space in 3D, walk around them, and interact with them. Quarterly business reviews will never be the same again.
Contextual data access
Giving workers access to rich contextual data can have a big impact on productivity. When married with mixed reality technology, contextual data can be overlaid onto the user's view, giving them a better understanding of what they're looking at and providing additional information that'll help them get the job done.
If you're a technician working in the field and you're looking at a piece of machinery through a mixed reality headset, you could be shown all kinds of data about that product; its specs, when it was last repaired, what work was done on it, or whether you have the appropriate parts to fix it in stock. Think Terminator Vision, but for less nefarious purposes.

How Microsoft is bringing mixed reality to ERP and CRM with HoloLens
Last year, Microsoft revealed that they'd created two mixed reality applications for Dynamics 365; remote viewer app Remote Assist and spatial-mapping tool Layout. They hit general availability late last year, but Microsoft wasn't resting on its MR laurels.
In early 2019, Microsoft released HoloLens 2. Building on what it achieved with the original HoloLens, Microsoft aimed to make its successor more immersive, more comfortable, and provide a wider range of practical, enterprise-led apps to shrink the hardware's time-to-value.
The company's plan for the latter involved the creation of two additional mixed reality apps to help companies take advantage of HoloLens in a tangible way, enabling enterprises to put the tech to work solving business problems right out of the box. Those new apps, currently in preview, are Guides and Product Visualize.
Microsoft also announced at the time that it would be bringing its mixed reality apps to iOS and Android devices. Most modern phones and tablets are capable of facilitating augmented reality; Microsoft's cross-platform expansion intends to help employees utilize Dynamics 365's mixed reality apps on any device, whether they have a HoloLens headset or not.
Let's find out a little more about this growing family.
Dynamics 365 mixed reality apps

Dynamics 365 Remote Assist
Lauded as a breakthrough by industries that require heads-up, hands-free work, Remote Assist does pretty much what it says on the tin; it allows employees to offer remote assistance to their colleagues in the field via a shared view.
Remote Assist enables the HoloLens wearer to make and receive calls through Skype or Microsoft Teams using an augmented reality interface and voice commands, so they're able to keep their hands free.
What elevates Remote Assist, though, is its augmented reality function. Users at either end of the video call can create and interact with AR content that appears in the HoloLens wearer's physical space. The employee back at the office can see exactly what the HoloLens wearer is seeing; if they need to point something out, they can draw a circle or an arrow on their screen, and that drawing appears as a live object in the wearer's view.
Remote Assist can also pull information into the wearer's view too. Since Remote Assist connects with the wider Dynamics 365 business app suite, users are able to call up and "drop" documents like work orders or product manuals into their space, allowing them to keep vital information where they can see it at all times.
Energy company Chevron, for example, uses Remote Assist both to connect field operatives with experts anywhere in the world, and to "walk their sites", carrying out remote inspections of construction and facilities in real-time.
Siemens has adopted the app too, using HoloLens headsets alongside Dynamics 365 for Field Service to carry out maintenance on its eHighway long-haul trucks. By using HoloLens to walk technicians through a service checklist and provide repair diagrams, the company has cut the time it takes to complete maintenance tasks, minimized errors, and been able to transfer service reports to Dynamics 365 for Field Service, where they can be analyzed across the entire business.

Dynamics 365 Layout
Spatial design is another one of those areas where augmented reality can make a massive impact. We've seen it on a small scale recently, with companies like IKEA releasing apps that let customers place virtual versions of their products into their real-life physical space to see how they would look and fit. Layout is, essentially, a supercharged version of this idea.
Using HoloLens to scan the surrounding landscape, Layout allows users to overlay 3D holographic versions of objects onto their physical world view, turning their space into a virtual studio. These holograms can be moved, grouped, duplicated, resized, or rotated in real-time.
By visualizing objects at full scale, businesses can see how they fit into the real work, making it easier to accurately design and review products, arrange floorplans, and envisage layouts. These virtual objects can be saved as files that can then be brought back to devices to continue to be worked on or shared with colleagues.

Dynamics 365 Guides
Guides is Dynamics 365's mixed reality learning app. Using 3D visuals, text, diagrams, and interactive tasks through the HoloLens headset, Guides helps people learn by doing without the risk or the expense of having them work in a real-world situation with real assets.
Not only does Guides instruct and train workers, but it can also measure their performance so trainers know where they might need extra help. Guides captures and stores usage data which can then be transferred into and analyzed by other Dynamics and Power Platform apps through Microsoft's Common Data Service.
Guides can be used on the job too; the app integrates with Dynamics 365 for Field Service, and can be used to deploy step-by-step instructions relevant to the job at hand to the fledgeling technician,  helping them complete their work successfully even when offsite.
Though Guides is still in preview, it's already proving transformative for companies like truck manufacturer PACCAR. PACCAR is using Guides to help new employees get up to speed quickly, walking them through complex product assemblies with step-by-step instructions and holographic diagrams.

Dynamics 365 Product Visualize
Product Visualize is a kind of customer-facing companion to Layout. Built for salespeople, the app enables users to better showcase their products and help them get a deeper understanding of their customers' needs.
Like Layout, Product Visualize lets you drop a full-scale 3D version of an item into a customer's own space using a tablet or similar device—you don't need a HoloLens headset for this to work. To give customers a truly accurate representation of a product, the 3D model can be interacted with and customized according to their needs. Customer requirements and configurations can then be noted directly on the 3D model via annotations and voice notes and added to the order, helping to boost accuracy and get the product that the customer wants first time around.
All this valuable customer data can then be fed into Dynamics 365 for sales for future reference.
Product Visualize is especially useful in sectors that work with bulky, intricate, or highly customizable products like manufacturing, healthcare, and the automotive industry.

Dynamics 365 mixed reality pricing
So, how much will all this cutting-edge tech cost to roll out in your business?
If you want to use Remote Assist, you'll need headsets. Unsurprisingly, the HoloLens 2 headset itself isn't cheap: each business-ready device is priced at $3,500. The cheapest way to utilize Remote Assist is to opt for the Remote Assist-HoloLens bundle, a package which starts at $125 per user, per month. Remote Assist can also be used with other Windows Mixed Reality-ready immersive headsets if you happen to have any laying around. If you don't need a headset, or you plan to use Remote Assist solely on mobile devices, you can license the Remote Assist on its own for $65 per user, per month.
Budding customers in the US, France, Germany, Ireland, New Zealand, Australia, and the United Kingdom can pre-order the HoloLens 2, though they should bear in mind that the device hasn't yet been authorized for sale under U.S. Federal Communications Commission (FCC) rules or Directive 2014/53/EU. As per Microsoft's website, "actual sale and delivery of HoloLens is contingent on device compliance with applicable FCC and Directive 2014/53/EU requirements".
Layout, which doesn't require a HoloLens headset, can be licensed from $95 per user, per month.
Pricing for Guides and Product Visualize is set to be confirmed in the coming months.
More Microsoft technology professionals than anyone else.
Browse pre-qualified candidates now and find the talent you need to transform your business.