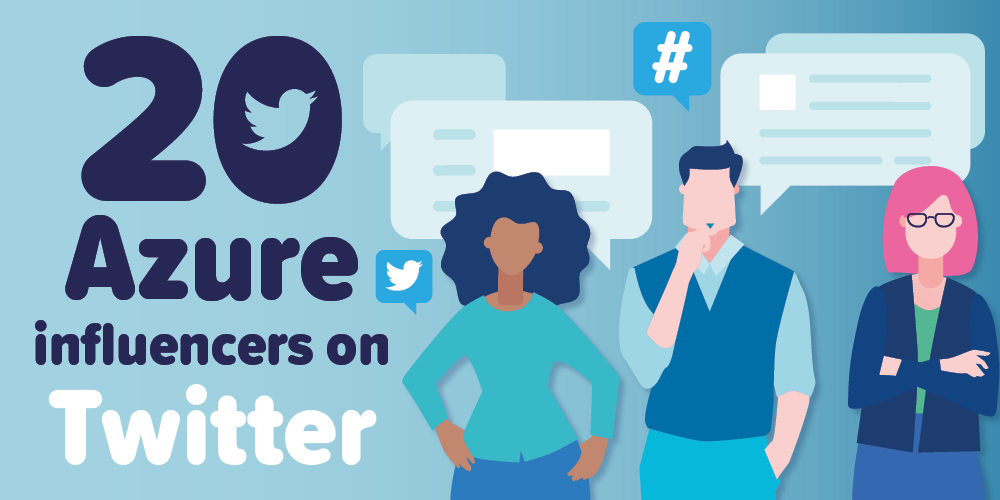 As one of the world's leading cloud infrastructure services, Microsoft Azure has garnered quite a following since launching almost a decade ago – a broad cross-section of people from around the globe who've all made a name in the Azure sphere in one way or another.
This diverse collection includes people from all walks of life, from those on the Microsoft payroll to MVPs, bloggers, coders and site founders who immerse themselves in all things Azure with authority and acumen.
As this community has grown, so too has their reach, which is why we thought it was high-time we shone a light on 20 Azure influencers doing great things in the ecosystem via Twitter, producing a snap-shot of the type of people shaping the product as it approaches its tenth birthday.
Of course, this isn't an exhaustive list and is by no means in any type of order. Think of it as an exercise in observation – one that holds a mirror up to the Azure community for a brief moment before sharing its reflection.
Between them, the following 20 individuals represent the breadth of variety currently working in the Azure realm, be that from a position of power behind-the-scenes or the perspective of an everyday user that has mastered the mechanics of Microsoft's service.
Some boast armies of followers, while others host their own dedicated websites packed with guides, blogs, video tutorials and more, but all come from a place of enthusiasm and – as the name suggests – influence when it comes to Azure.
Online communities have become a foundation of learning – starting points that prompt a culture of communication amongst likeminded people – and the following are examples of active Azure specialists worth your time and attention the next time you're trawling through Twitter.

Kelly Sommers
Followers: 39.4k
Developer Kelly Sommers is a Windows Azure MVP four times over, and also a former DataStax MVP for open-source database management system Apache Cassandra.
Sommers describes herself as a "relentless learner", and regularly tweets about anything and everything affecting Microsoft and the wider tech industry.
---
Ashley McNamara
Followers: 54k
A self-confessed "hardware nerd", Ashley McNamara has been in the tech industry for over 20 years in various guises – a front-end developer, start-up consultant, Engineering Fellow and developer advocate.
On her Microsoft bio, Ashely says: "My passion is helping more underrepresented individuals join and feel comfortable in tech and I'm often a resource for new developers trying to find their way."

Carsten Rachfahl
Followers: 11.9k
Carsten Rachfahl is a Microsoft Regional Director, Azure MVP, and Cloud Consultant in the German town of Hallenberg. He's also a prolific tweeter on all things cloud IT and e-mobility and organizes the Cloud and Datacenter Conference.
Over at the Rachfahl IT-Solutions site, you'll find blog posts, podcasts and webinars, while his Microsoft MVP bio and activities list underlines Carsten's authority and influence in Azure circles.
---
Mark Russinovich
Followers: 91.9k
As his job title suggests, Microsoft Azure Chief Technology Officer Mark Russinovich's place on this list is something of a given, yet there's much more to this Washington State resident than his place in the Microsoft hierarchy.
Armed with a PhD in computer engineering, he joined Microsoft when the company acquired Winternals Software, which he co-founded in the mid-1990s. He is also the author of novels Rogue Code, Zero Day and Trojan Horse, co-author of the Microsoft Press Windows Internals book series, and a hugely popular speaker.

Joanne Klein
Followers: 5.3k
A three-time Microsoft MVP in Office Apps and Services, Joanne Klein specializes in SharePoint and  Office 365 as well as Azure, and runs a successful blog covering all of this and more via user-friendly posts and additional content.
Also a prominent industry speaker, Joanne is the owner and founder of NexNovus Consulting and has built a solid reputation by helping organizations via her experience of best practices, technical expertise, and guidance. Oh, and she's also a latte aficionado!
---
Paul J Swider
Followers: 11k
Speaker, author and co-founder and CTO of RealActivity – an organization focused on streamlining healthcare operations and research using Microsoft Azure and a blockchain based exchange technology – Boston-based Paul J Swider has over 25 years of computer science and healthcare technology experience.
Among the many features of his website, visitors are encouraged to sign up to Paul's 'Azure Playbook' mailout. "I share bits related to Azure, Business Apps, AI, Blockchain, healthcare and more with the global technology community," he says.

Aidan Finn
Followers: 9.8k
A current Azure MVP and a Microsoft MVP for the last 11 years, Aidan Finn boasts a career in IT that spans almost a quarter-of-a-century. He is currently the Principal Consultant for Innofactor Norway, where he helps customers to deploy Azure solutions.
His blog covers Microsoft infrastructure solutions, with particular focus on Hyper-V and Azure IaaS, and he has also written for a number of technical sites and is a contributor on Azure for the Petri IT Knowledgebase.
---
Chris Pietschmann
Followers: 5k
A Microsoft MVP and a Certified Azure Solutions Architect, Chris Pietschmann is the man behind Build Azure – "a showcase of unique and aggregated content that focuses on everything Microsoft Azure; from Developer to IT Pro and everything in between."
The Microsoft Certified Trainer also hosts an Azure-themed meet-up group in Milwaukee, and offers a useful weekly newsletter (available via subscription) that drops the latest Azure news and updates straight to your inbox every seven days.

Steef-Jan Wiggers
Followers: 2.1k
Recognised as a Microsoft MVP for the last nine years, Netherlands-based Steef-Jan Wiggers works as an Azure Technology Consultant, and is backed by a career spanning more than 20 years.
A regular contributor to InfoQ, he also runs Serverless Notes – an online knowledgebase packed with first-hand reference material relating to Azure. His background includes roles in project management, large integrations and consultancy too.
---
Download the latest Microsoft Azure Salary Survey here!
Dave Kawula
Followers: 2.7k
"Enterprise Consultant, Technology Evangelist, best selling author and all around geek," Dave Kawula is considered an expert in his field, and with over 50 Microsoft Certifications to his name, it's easy to understand why.
Recently named as the Conference Co-Chair for Techmentor, he's a regular contributor to popular blog Check Your Logs, has eight Microsoft MVP awards in his locker, and is a popular and highly-regarded member of the Azure community.

Jennelle Crothers
Followers: 2.5k
A Microsoft Azure specialist, Jennelle Crothers is a noteworthy MVP authority on emerging Microsoft technologies, and brings a wide range of experience to the table thanks to her previous role as a Systems Administrator.
Her Tech Bunny site brings together a host of relevant resources, including content from previous talks and presentations, training and learning materials. It also features a dedicated Azure page packed with blog posts and dedicated, topic-led threads on everything from security and storage to migrating and costing.
---
Robert Smit
@Clustermvp
Followers: 2.4k
Netherlands-based Robert Smit is a Cloud Solution Architect, Technical Evangelist and a Microsoft MVP from as far back as 2009. According to one endorsement on his Microsoft profile, he is "capable with his in-depth knowledge of Microsoft products to troubleshoot problems and develop infrastructure to a higher level".
He describes his blog as "a platform to share information about Windows Server/System Center and Azure", and after more than 20 years in the sector, the site is testament to his experience and expertise.

Santosh Hari
Followers: 1.4k
A three-time Microsoft MVP, Santosh Hari is an Azure Consultant at customer-service focused technology consulting firm New Signature, and runs the blog site Hari-up, which looks at tech, start-ups and business.
Cited by TechBeacon on their list of Top 100 DevOps last year, Santosh is an active member of the Azure community, leading the .NET User Group in Orlando and co-organizing the Orlando Codecamp.
---
Anupama Natarajan
Followers: 563
Based in Porirua, in the Wellington district of New Zealand's North Island, Anupama Natarajan is a consultant specializing in data, analytics and AI and a Microsoft Certified Trainer with a passion for sharing knowledge.
Her blog includes links to previous presentations as well as Azure-specific posts, and her ethos is writ large via a message on the homepage which reads: "Sharing knowledge does not lessen your store, often it gets you more."

Veronika Kolesnikova
Followers: 787
Boston-based Rightpoint developer Veronika Kolesnikova is an excellent source of knowledge when it comes to backend web development – predominantly with Microsoft technologies including Azure and .NET.
A regular speaker at user-group meetings and code camps, as well as conferences on a local and national scale, she is another professional who prioritizes the distribution of relevant knowledge and plays an active role in the tech community, and received her first Microsoft MVP Award earlier this year.
---
Jamie Maguire
Followers: 3.3k
A recent recipient of a Microsoft MVP Award in AI, Jamie Maguire is a lifelong tech enthusiast who has been writing code since he was a kid on old-school platforms such as the ZX Spectrum, Commodore 64 and Amiga.
Fast-forward to today, the UK-based specialist has worked with Twitter to identify sales leads for digital marketers, and utilizes his own site to highlight speaking engagements, post blog content and answer questions relevant to his experience as a software architect, consultant and developer.

Mikhail Shilkov
Followers: 1.7k
A self-appointed "serverless fanboy", Mikhail Shilkov is a Microsoft Azure MVP and an active community sharer with experience in Functions, App Service, Messaging, Cosmos DB, Storage and more.
A Russian national currently based in the Netherlands, he regularly takes to his blog to cover the latest in cloud technology and plays a part in organizing the ServerlessDays event in Amsterdam. He has also contributed to our very own blog pages in the past.
---
Gregor Suttie
Followers: 4k
Another recent Microsoft Azure MVP who has previously written for Nigel Frank International's blog, Gregor Suttie – AKA Azure Greg – helps to run the Glasgow Azure User Group in Scotland, and describes himself as a "passionate developer".
Currently Head of Development Services at Sword IT Solutions, Azure has become one of his key focuses, and as well as organizing his local Azure Global Bootcamp, he has also passed eight product-related exams in the last 12 months.

David O'Brien
Followers: 4.2k
Founder of cloud consulting, microservices and training company XIRUS in Melbourne, Australia, David O'Brien is a six-time Microsoft MVP Award winner and a widely-respected authority on all things Azure and Azure DevOps.
Another of our blog contributors, his own site concentrates on cloud automation via how-to guides, speaking engagement info and thought pieces, and he's also a co-organizer of the Melbourne Microsoft Cloud and Datacentre meet-up.
---
Deepak Kaushik
Followers: 702
From the Canadian city of Saskatoon, Deepak Kaushik describes himself as a "cloud-blooded beast" – and with good reason. He's regularly consulted by firms looking to formulate their cloud strategies and is a fully-focused specialist in developing and architecting solutions within Azure.
A Microsoft Azure MVP, he regularly shares knowledge via his own site and founded Regina/Saskatchewan 'C# Corner Chapter/User Group' three years ago, where he continues to organize monthly meet-ups and webinars.
More Microsoft technology professionals than anyone else.
Browse pre-qualified candidates now and find the talent you need to transform your business.