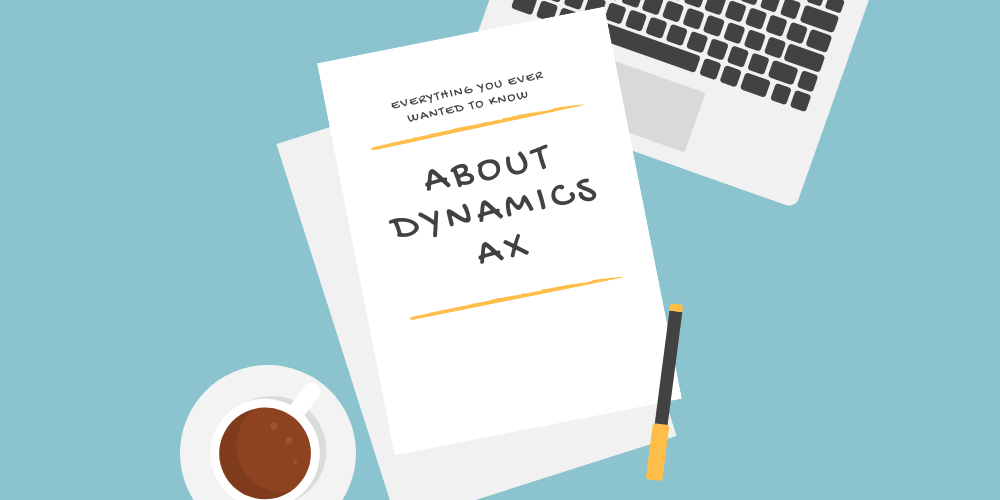 The world of Microsoft Dynamics is a complex one, with a multitude of CRM and ERP apps at its core, many available both as SaaS instances and on-premise, and a whole host of supporting and integratable services.
If you're considering implementing Dynamics AX in your business, or just want to find out more about the popular ERP platform, this multifaceted family tree can make getting your head around an already wide-ranging, feature-rich product a challenge.
So, we're going back to basics to look at some of the most frequently asked questions about Dynamics AX and Dynamics 365.

What is Dynamics AX?
Dynamics AX is a piece of business software made by Microsoft. It's an enterprise resource management—or ERP—program that helps businesses manage the back-end operations that keep it running on a day-to-day basis.
Dynamics AX covers areas like business intelligence, warehouse management, financial management, retail and e-commerce, inventory management, project management, service management, human resources, manufacturing, and distribution. Although it doesn't boast all the features of a full CRM, it also has some sales and marketing capabilities too.
Dynamics AX is part of the Microsoft Dynamics suite, which contains both ERP and CRM software (which Microsoft now refers to as "apps").
Originally launched in 2003, the Dynamics suite was made up of five products: Dynamics NAV, Dynamics AX, Dynamics GP, and Dynamics SL, all ERP software; and Dynamics CRM, Microsoft's customer relationship management software.
What is Dynamics 365 for Finance and Operations, and how does it relate to Dynamics AX?
In November 2016, Microsoft rebranded its Dynamics suite, rolling all of its CRM and ERP products into one umbrella product; Dynamics 365.
Dynamics GP and Dynamics SL remain standalone products, but the other software was renamed and rolled into Dynamics 365. Dynamics AX became Dynamics 365 for Finance and Operations, Dynamics CRM became Dynamics 365 for Sales, and Dynamics NAV was revamped as Dynamics 365 Business Central.
Some of the apps' functionality was spun off into smaller, modular software, so businesses can pick and choose the features they want. All in all, there are nine main apps within Dynamics 365, with several smaller sub-apps available in addition.
So, technically, Dynamics 365 for Finance and Operations is just the new name for Dynamics AX.
As the Dynamics AX moniker has officially been retired, this FAQ will refer to the product as Dynamics 365 for Finance and Operations, unless specifically differentiating between new and old versions.
Is there any technical difference between Dynamics AX and Dynamics 365 for Finance and Operations?
Though Dynamics 365 for Finance and Operations is largely the same product as the version which was previously known as Dynamics AX7, the cloud-based version of D365F&O does boast some new features.
There are a couple of big changes that users are likely to spot immediately; deployment, and interface. All Dynamics 365 apps are browser-based, so users no longer need to load up a program on your computer to access it. This new login procedure is also a boon on the accessibility and mobility front, meaning the app can be accessed and run from almost any device, so long as it has internet access.
Finance and Operations also looks a lot different from its forerunners, having undergone a major facelift since AX 2012. The sleek new design is aimed at improving user experience, and encouraging collaboration with other users. The interface is also customizable, with each user able to personalize their homepage with custom colors and default start pages.
With access to artificial intelligence-powered analytical services and more-comprehensive sets of business data, Dynamics 365 outstrips previous versions of AX in terms of reporting and business intelligence.
Another key difference between AX and D365F&O is that while AX can be customized through development, F&O can be extended by using third-party add-ons or extensions which can be quickly installed and removed as needed.
On the reporting front, the static cubes generated in SQL Server Analysis Services in earlier versions of Dynamics AX have been replaced with real-time in-memory multidimensional analysis capabilities.
So, what does Dynamics 365 for Finance and Operations do?
Dynamics 365 for Finance and Operations is Microsoft's most in-depth and expansive ERP product and features comprehensive financial management capabilities, such as accounting, financial management, budgeting and planning, and tax management.
It also includes modules for manufacturing and production, inventory management and distribution, time and expense management, project management, human resource management, and even some CRM functionality such as sales and marketing. All of these modules are backed by the app's robust business intelligence and reporting features.
Positioned as a "visionary" product by Gartner's most recent Magic Quadrant for Cloud Core Financial Management Suites for Midsize, Large and Global Enterprises, D365F&O customers rated the product highly in terms of overall functional capabilities, praising its flexible general ledger coding and analysis, good accounts receivable and fixed assets accounting capabilities.
The product's global coverage, supported by a worldwide network of Microsoft partners, put it in the top third of vendors in this Magic Quadrant in terms of geographic viability.
Customers also cited the solution's innovative analytical technology, with the ability to embed Power BI, and real-time in-memory multidimensional analysis capabilities proving a valuable feature. Microsoft's powerful, cutting-edge business intelligence platform, Power BI can help users get more out of their business data, helping visualize key information, and offering AI-fueled guidance on next steps and areas where efficiency could be improved.
As well as Power BI, D365F&O is natively integrated to, and positively augmented by, the rest of Microsoft's vast array of offerings, including Office and Office 365, Microsoft Dynamics CRM, and SharePoint. This link to commonly used businesses products allows users to centralize their work further, and collaborate with other departments and peer organizations more easily.
Who uses Dynamics 365 for Finance and Operations and why?
The app is aimed at midsize and large enterprises, though it may also be suitable for some global enterprises depending on requirements. Its comprehensive nature makes it ideal for a wide range of industries, but it's most popular in the retail, manufacturing, distribution, professional services, and public sectors. In 2015, it was used by around 20,000 companies, largely with annual revenues between $3-5bn. The majority of customers have several hundred users, though as the product's functional footprint has grown, it has increased its scalability and its appeal to larger organizations.
It currently supports 118 countries and 24 languages, with partners supporting another four languages, giving it a wide internationally appeal.
Most companies that use D365F&O are large enough to merit employing full-time staff and development resources, with expertise in ERP and business analysis, to run their solution.
Since Microsoft reversed its cloud-only stance on Dynamics 365 and began offering on-premise and hybrid deployments, the range of deployment options has also proved appealing to many businesses. The ability to start on-premise and graduate to the cloud as and when businesses are ready is a boon for organizations who remain somewhat hesitant about going all-in on SaaS ERP.
Gartner has found that the markets within ERP tend to be split when it comes to cloud acceptance and adoption. Though cloud is becoming the favored deployment option for certain administrative requirements like HR and financial management, within operational markets the demand for cloud is far more muted. Offering a choice of deployment avenues sets D365F&O apart from other ERP suites in the market, very few of which are built for flexible deployment.
Microsoft has also invested a lot into its Lifecycle Services, helping businesses manage and scale their solution throughout its life, from pilots to post-implementation support. The service aims to make businesses more efficient and ensure they get the most out of D365F&O. This support system from a trusted tech name like Microsoft is a significant advantage for businesses when weighing up ERP options.
More Microsoft talent than anyone else
Take a look at our database of pre-screened Dynamics professionals and take the first step toward landing the best administrators, developers, and consultants in the market.
How can Dynamics 365 for Finance and Operations help businesses grow?
From a financial standpoint, Dynamics 365 for Finance and Operations helps businesses to enhance visibility across the organization, improve financial controls, accelerate cash flow, increase forecasting accuracy, and achieve corporate compliance.
It can also help companies boost their productivity (and in turn, their profits) by giving better oversight when managing projects. Using D365F&O, businesses can streamline project setup processes, improve and automate resource scheduling, oversee project time, expenses, and invoices, manage budgets, and collaborate better with project team members.
Best-of-breed reporting tools allow users to cut down on time spent generating reports, and derive more practical, contextual information from their data through robust business intelligence services.
Manufacturers can use a mixture of processes including discrete, lean, and process in a single, unified solution, helping to create customized operational processes that best fit the needs of the organization. Businesses with a supply chain to manage can use the platform's capabilities to evaluate and streamline logistics using real-time visibility and automation, making it faster and simpler to connect with suppliers and clients, speed up delivery, and improve communication throughout the process.
The app can be tailored to meet specific business needs, giving companies the ability to expand,  innovate, and develop the tools they need to succeed.

What is the difference between Dynamics 365 Business Central and Dynamics 365 for Finance and Operations?
Many customers considering a Dynamics ERP will be faced with a choice between Dynamics 365 for Finance and Operations and the suite's other popular ERP, Dynamics NAV.
Though both software cover the same core areas Dynamics 365 for Finance and Operations has much deeper functionality than NAV/BC, and as such, is generally favored by much larger businesses.
Built for Fortune 1000 companies, D365F&O tends to compete with solutions such as SAP and Oracle and tends to appeal to multinational manufacturers with users in the hundreds, and operations spread across global locations.
Due to its complexity, and the scope of businesses who utilize it, D365F&O generally takes much longer to implement, but the payoff is a powerful and feature-rich ERP.
Dynamics 365 for Finance and Operations boasts several high-level features that Dynamics NAV does not, including Master Data Management, and the ability to manage a complex organizational structure, and the use of a variety of financial standards within the same solution.
What is Dynamics 365 for Retail?
Although Dynamics 365 for Finance and Operations contains all the functionality previously found in Dynamics AX, some of the app's capabilities have been spun off and expanded in supplementary ERP apps.
As D365F&O can only be purchased as part of a plan, these apps always come bundled with the main platform, though they can also be purchased as standalone solutions for customers who don't need a full ERP service.
One of these two apps is Dynamics 365 for Retail, which encompasses functionality for companies who operate either online or traditional brick and mortar stores (or a mixture of both) to manage their front and back-end retail operations.
Designed as an all-encompassing solution for retailers, Dynamics 365 helps organizations deliver their products across multiple channels while efficiently managing their inventory, organize their merchandising efforts, and meet customer demand.
Real-time inventory reports, employee schedules, customer order histories, and modern Point of Sale services are all available across a wide range of devices, so retail staff can always get access to the information they need.
Customers can be reached wherever they are and however they choose to shop, which grows brand loyalty through great service. In-built AI capabilities also enable companies to predict and capitalize on new opportunities by analyzing business data and customer buying trends.
The app also helps retailers reach new customers through effective marketing campaigns, driven by personalized customer insight, and connects businesses with the right audience through mobile, web, and social media communications.
What is Dynamics 365 for Talent?
Microsoft's first dedicated human capital management app, Dynamics 365 for Talent is designed to bring everything users need to optimize human resource management together in one app.
As well as seamless assimilation with other Office 365 services like Outlook, Dynamics 365 for Talent also has a secret sauce that sets it apart from other HCM apps. Following Microsoft's acquisition of professional networking site LinkedIn, Dynamics 365 for Talent the first to utilize data from LinkedIn's 500 million registered users.
Dynamics 365 for Talent aims to make finding, acquiring, training, and keeping the best talent simpler and more efficient by fostering a culture of excellence where both your operations and your employees can be at their best.
The app not only helps users find, hire and set up new employees, it also allows managers to better guide and support their employees' professional development, by offering a channel for continuous feedback, performance tracking rewards, and clear pathways to progression.
With the help of Dynamics 365's inbuilt AI, Talent can automate routine HR tasks, help minimize compliance risk, and improve planning through tracking and analyzing core operations.

What releases are currently available?
The most recent version of Dynamics 365 for Finance and Operations is Version 9.0, rolled out in early 2018.
Until late 2017, the app was known as Dynamics 365 for Operations, Enterprise Edition, before the edition-based licensing structure was scrapped, and before rebranded as a product Dynamics 365, was known as Dynamics AX, or Dynamics AX7 to differentiate it from previous versions.
Though it's been through several name changes, the product itself has remained roughly the same from being AX7 to becoming Dynamics 365 for Finance and Operations.
Customers who haven't moved to D365F&O may still be using a previous version, which will therefore still be operating under the Dynamics AX moniker.
Previous versions still in operation include:
Dynamics AX 2012 R3—for which extended support will continue until 2023
Dynamics AX 2012 R2— for which extended support will continue until 2021
Dynamics AX 2009 (Service Pack 1)— for which extended support will continue until 2021
Extended support for earlier versions, including AX 3.0 and 4.0, has now ended, but there will still be some customers using these older versions.
What are the system requirements for Dynamics 365 for Finance and Operations?
System requirements for Dynamics 365 for Finance and Operations will depend on how the software is deployed.
A SaaS instance of D365F&O is that the software doesn't need to be installed on the user's device or devices, so implementation is generally simpler and faster, and there are much fewer system requirements. This makes a cloud-based option particularly appealing to smaller businesses who would otherwise be priced out by the cost of extensive hardware outlays and upkeep.
To run a cloud-based version of D365F&O, all customers need is an up-to-date version of either Microsoft Edge, Internet Explorer, Google Chrome, or Apple Safari, using an operating system no older than Windows 7 for PCs, or 10.10 for Apple devices.
Dynamics 365 for Finance and Operations comes with no hardware requirements as the software itself is not installed on local computers, but on the host's servers—though of course the more memory a device has, the more quickly and reliably it will be able to run web browsers.
On-premise deployments have more significant requirements. Finance and Operations is complex, and specific requirements can vary hugely depending on the configuration, apps, and features used by businesses, as well as how many concurrent users there are, and how many transactions are being processed. Read more about infrastructure requirements for on-premise deployments.
Where is Dynamics 365 data stored and who can access it?
All of Microsoft's cloud products, including cloud-based deployments of Dynamics 365, are hosted on the company's cloud platform, Azure. Azure is operated from Microsoft data centers located all over the world; which data center an organization's data is physically housed in will depend on where the organization is based, and the product it is using.
Although Microsoft acts essentially as custodians of users' cloud data, the customer will still be the sole owner and administrator of that data.
Microsoft was the first cloud provider to adhere to ISO 27018, a code of practice that ensures:
Customers know where their data is stored
Customer data won't be used for marketing or advertising without explicit consent
Customers can demand the return, transfer, and secure disposal of personal information within a reasonable period
Microsoft will only disclose customer data when legally obliged to do so
Microsoft's cloud services are also subject to scrutiny under ISO 27001, which contains hundreds of guidelines on how a CSP should manage its infrastructure to keep its customer data secure. Microsoft is regularly audited by the ISO to confirm its continued compliance with its rules and regulations.
When necessary, Microsoft personnel or its subcontractors may also access user data. Under the terms and conditions of the customer's subscription to Microsoft's business services, users can access and extract their data at any time, for any reason, without the need to notify or involve Microsoft. If users ever cancel their subscription, their data will be kept for 90 days to allow them to export. After that period expires, Microsoft will delete the data, including any cached or backup copies.

How is Dynamics 365 for Finance and Operations licensed?
Dynamics 365 for Finance and Operations cannot be purchased individually, and must be bought via one of two plans:
The Unified Operations Plan, which includes D365F&O, as well as Dynamics 365 for Retail and Dynamics 365 for Talent
The Dynamics 365 plan, which includes both CRM apps and ERP apps plus a social media management app called Microsoft Social Engagement
However customers choose to buy D365F&O, it is purchased by "seat." A seat is an individual license that gives access to the software to one, named user. So, rather than purchasing the software as a whole and having unlimited access to it, customers purchase access on a user-by-user basis. These licenses are priced monthly.
There are two types of seat when it comes to Dynamics 365. Customers can either purchase a Full User license, with gives users access to all the functions and features of the app, or a Team Member license, which gives the license holder limited read/write access to certain basic areas. Customers can mix and match these license types to suit their users and their required levels of access.
For example, if a business decides on the Customer Engagement plan, they might purchase 10 Full User seats, and an extra 15 Team Member seats. This means that the ten people given Full User seats will be able to use all of the features of all of the apps included within the plan. The people given Team Member licenses will also be able to access all of the included apps, but they will only be able to use certain features, such as accessing schedules, recording time and expenses, and submit reports.
How much does Dynamics 365 for Finance and Operations cost?
Licensing the apps through the Unified Operations Plan costs $190 per month for each Full User license and $8 per month for each Team Member license.
The Dynamics 365 plan costs $210 per month for each Full User license and $8 per month for each Team Member license.
Job specs? We can take care of that.
Tell us what you're looking for and we'll put together a job spec that'll attract professionals with the skills and experience you need.
How is Dynamics 365 for Finance and Operations deployed?
Customers can opt to deploy Dynamics 365 for Finance and Operations in one of three ways:
Cloud
Software that is not installed on a user's device, and instead accesses through logging into the software a web browser, is known as SaaS, or software as a service. Customers opting for this deployment route will use a version of Dynamics which is hosted in the cloud—meaning it is installed on the vendor's own servers and accessed remotely via the internet. SaaS instances of Dynamics 365 are hosted either Microsoft's public Azure cloud, or on a managed Azure service provided by Microsoft partners, and all the infrastructure supporting the software is all hosted off-site in a secure location.
This option allows users to take advantage of cloud-only features like integration with other programs, and smart reporting functions powered by machine learning. Using Dynamics 365 in the cloud also removes the need for hardware and in-house data storage, and means users don't need to install or manually update the software, as it is all managed from the vendor's end.
As the data is stored on the vendor's hardware, users may need to pay to "rent" extra space for their data when using a SaaS product.
On-premise
Known as Local Business Data deployment, this is the "traditional" way to deploy software and allows users to host their Dynamics 365 software either on their servers or those of an IT partner. Businesses using Dynamics 365 on-premise will install the software on their devices and store all the data on their hardware.
On-premise instances of Dynamics 365 may be a good choice for businesses who need to host their data due to data regulation, or do not have a stable enough internet connection to reliably access a SaaS version of the software.
Hybrid
Also known as Cloud and Edge, hybrid deployments are fully integrated with the Microsoft cloud, but transactions and data are stored locally on the users' own data center and synced as and when needed.
The ability to use the system offline can be useful to industries in which business continuity is especially important, such as retail or manufacturing. Cloud and Edge deployment allow customers to run their Point of Sale operations regardless of connectivity so that users can capture data and perform transactions whatever their internet status. Any data obtained offline can later be synced to the cloud for business intelligence or reporting purposes at a later date.
What differences in features are there between a cloud deployment of Dynamics 365 for Finance and Operations and an on-premise deployment?
Users who employ the SaaS model of Dynamics 365 can access expansive and continually evolving business intelligence tools. The cloud not only stores and processes your data, but it also learns from it. Microsoft has invested enormously in machine learning in recent years, and cloud users are beginning to reap the benefits. Dynamics 365 offers a real-time, 360-degree view of performance, and can help visualize business data using intuitive, customizable reports and dashboards.
With a financially backed, 99.9% uptime guarantee, users can also be safe in the knowledge that Microsoft has them covered should any kind of disaster recovery be necessary. In the event services are interrupted, Dynamics 365 includes some of the most robust disaster recovery features on the business application market. Built to help organizations bounce back from both planned and unexpected service outages, Microsoft's recovery protocols include keeping a synchronized, duplicate copy of a company's data on a second server, allowing users to continue their operations with minimal disruption.
This recovery procedure is executed either through network load balancing, which evenly channels traffic through multiple servers, and redistributes the load should a server be compromised. Backup servers can also be employed to ensure operations continue should the primary server fail. Dynamics 365 offers SQL mirroring, in which a copy of your database is hosted on an alternative server that can be brought online in the event of a disaster.
Backing up data should be second nature to all businesses, but it's one of those tasks that often gets pushed down the agenda. Cloud deployment gives users peace of mind by not only removing the need to safeguard their servers but also automatically backing up data, so no information will ever slip through the cracks.
Cloud users can scale the size and scope of their Dynamics 365 solution up or down at any time. With on-premise software, facilitating business growth often means investment in new servers and processors to cope with increased demand. With cloud-based software, customers are paying for the ability to use the software, and not the computing power or space to run it, so adding or removing users, or even apps, is as simple as issuing a service request.

What kind of jobs are there in Dynamics 365 AX/Dynamics 365 for Finance and Operations:
There are two main categories of common Dynamics 365 for Finance and Operations roles; those who work on implementations, setting up and configuring the software before it's rolled out, and those who work on the day-to-day running and maintenance of the software.
During a Dynamics 365 for Finance and Operations, you're likely to come across the following roles:
Business Analyst/Solutions Architect
A solution architect's job is to examine user plans, measure requirements, and help customers work out what the new solution should look like and what it has to deliver.
Functional Consultant/Application Consultant
The functional consultant will have strong knowledge of the Dynamics 365 for Finance and Operations platform, and how its capabilities can be configured to meet user needs. They'll take all the prerequisites worked out earlier, map those against the functionality of the solution, and work out a practical plan of action. They might also draw up documentation for the project, like solution design plans, functional requirement documents, customization specs, test plans, and user guides.
Technical Consultant
A good Dynamics 365 for Finance and Operations technical consultant will possess both technical and functional knowledge of the application, and know the development languages used for that specific product inside out.  They'll collaborate with solution architects and functional consultants to work out what tinkering has to be done within a Dynamics solution, customize the system, and develop new ways of meeting these needs.
After implementation, businesses may recruit for the below roles to maintain and support the system:
Developer
A Dynamics 365 for Finance and Operations developer will work to customize the solution to help it better meet the changing needs of the business. Developers should have a range of skills such as C/AL, .NET, C#, and SQL Server. Their tasks will likely include developing plug-ins and workflows, customizing forms, views, business rules, reports, and dashboards.
Trainer
An ERP solution is only as good as the people who use it, so often businesses will hire trainers to bring users up to speed and help them get the most out of their software.
Systems Accountant/Finance Consultant
Dynamics 365 for Finance and Operations has a wide range of accounting features, and some larger businesses using F&O will employ an accountant with knowledge of the product to manage their finances. Systems Accountants are expected to have extensive product experience and be qualified accountants with knowledge of statutory accounts, chart of accounts, and financial process mapping.
Support Analyst/Support Consultant
A support analyst will help keep the solution in peak condition, installing updates, troubleshooting problems, and constantly assessing and re-evaluating the system and carrying out work to ensure it continues to meet the needs of the business. Responsibilities of the support analyst include working closely with users, architects, and developers to provide capacity planning, operational administration, and helpdesk support.
What certifications are available for Dynamics 365 for Finance and Operations?
Under Microsoft's new certification structure, those wanting to get certified in Microsoft Dynamics would do so by taking the Business Solutions certification track. This track involves first achieving the MCSA: Microsoft Dynamics 365 certification and then achieving the higher-level MSCE: Business Applications.
Entrants must pass two exams to attain an MCSA—one focusing on Dynamics 365 for Finance and Operations, and one of two focusing on SQL databases—and a further one exam to attain an MSCE. There are a number of exam options available at MSCE level, and entrants may choose the exam which best suits their experience and career path. Three of these exam options cover aspects of Dynamics 365's CRM capabilities, and three cover ERP, with exams focusing on Dynamics 365 for Retail, Financial Management in Microsoft Dynamics 365 for Finance and Operations, and Distribution and Trade in Microsoft Dynamics 365 for Finance and Operations.
Each exam costs USD $165 per attempt, so attaining an MSCA would cost USD $330, and an MSCE a further USD $165. This cost is for a single attempt, and retakes must be paid for again.
Dynamics 365 for Finance and Operations market information
Gartner's most recent Magic Quadrant for Cloud Core Financial Management Suites for Midsize, Large and Global Enterprises named Dynamics 365 for Finance and Operations as a Visionary based on the completeness of Microsoft's vision of the product.
According to the report, the product's Visionary status is down to its "broad financial functionality, wide geographic coverage, cloud focus and plans for finance line-of-business marketing."
The report cited limited visibility of Dynamics 365 for Finance and Operations in the cloud core financial management sector during 2016/2017 as a roadblock to achieving a better position in the Ability to Execute quadrant. This is likely due to the apps considerable name and licensing changes since its launch, though visibility should improve now that branding for the suite has begun to settle.
Revenue for the Dynamics suite as a whole has climbed significantly since the launch of Dynamics 365; 3Q18 revenue for the software collection was up 17%, with a 65% increase in Dynamics 365 subscription revenue. Analyst Christopher Eberle of Instinet estimates that this sharp increase in profit will continue, predicting that revenue From Dynamics 365 will rise from $1.6bn in 2017 to $4.5bn in 2020.
See the latest salaries for Dynamics AX professionals

How long does Dynamics 365 for Finance and Operations take to implement?
How long a Dynamics 365 for Finance and Operations implementation will take depends on a near-endless collection of business-specific factors. Is it being implementing on-premise or in the cloud? How large is the customer business? How many users do they have? Is it an upgrade, or a completely new solution? Is there a lot of legacy data to be migrated? How much development work is necessary to make the solution meet the users' needs?
Businesses who don't require a lot of customization work, or have minimal legacy data to migrate into the new system, might find that they can go live in a couple of months.
A large business with many users, and a lot of development required, may expect an implementation to take six months to a year, though it's not unheard of for implementations to run far beyond that.
Like all SaaS platforms, with Dynamics 365 in the cloud, users are consuming a service rather than installing a product. Without the need to install the software on individual machines, configuring and deploying Dynamics 365 in the cloud is much faster than a traditional implementation. The solution utilizes point-and-click setup wizards so that users can get up and running quickly. Of course, the more businesses want to modify the service, and the further away from the turnkey, "out of the cloud" iteration they move, the more complicated implementation will become. However, deploying in the cloud is still considerably simpler than rolling out software on-premise.
Can users upgrade to Dynamics 365 for Finance and Operations from an older version of Dynamics AX?
Dynamics AX users who wish to upgrade to Dynamics 365 for Finance and Operations can do so, but they must first upgrade to the latest edition of Dynamics AX, which is AX 2012. Only then can they bridge over to Finance and Operations.
Microsoft Dynamics 365 for Finance and Operations (platform update 8 and later) provides an upgrade path that customers who currently run Microsoft Dynamics AX 2012 can use to move their data and code to D365F&O. Currently, upgrades from AX 2012 R3 and AX 2012 R2 are supported.
However, Dynamics AX 2012 implementations that are running certain deprecated features— such as virtual companies or data partitions—cannot currently be upgraded. Microsoft's upgrade analyzer can run through the Dynamics AX 2012 environment and help users prepare for the upgrade, by suggesting pre-upgrade tasks such as data cleanups, SQL optimization, and scoping out functionality gaps left by depreciated features.
AX users who choose to upgrade to the cloud and switch to Finance and Operations before 30th June 2020 will receive a 40% discount on their new Dynamics 365 licenses. After this time, existing AX users will have to pay full price for their Finance and Operations licenses if they wish to continue using AX/ D365F&O.
How often is Dynamics 365 for Finance and Operations updated?
Cloud-based instances of Dynamics 365 are regularly updated. Service updates, which introduce new features, are rolled out every three months. Update rollups, which address any bugs or issues within the app, are released more frequently, typically every eight weeks. Update rollups are implemented automatically for cloud customers.
Cloud users have the choice of whether or not to accept these updates and can test them in their development sandbox instance to ensure compatibility before implementing them. This little-and-often approach means users are always at the forefront of any new developments with the software and negates the need for time-consuming installations of new product versions.
Users of Dynamics 365 in the cloud receive updates sooner, and more often, than on-premise users; in fact, many features and updates included in the cloud version are never extended to on-premise.
On-premise Dynamics AX/D365F&O customers only receive one service update per year.

What is Microsoft AppSource, and what does it mean for Dynamics 365 users?
If users need to integrate their Dynamics 365 system with any other programs or services or want to find a way to add extra functionality not native to the solution, there's AppSource.
AppSource is Microsoft's online store for third-party bolt-ons and integrations. Microsoft cloud service users can visit AppSource to purchase apps that help their software do more. If users want to connect MailChimp to Dynamics 365, for example, add maps, enable speech-to-text functions, there's an app for that.
There are currently over 500 apps and add-ons available to Dynamics 365 users, with more added every day. These apps can be added to Dynamics 365 in an instant, with no coding or customization necessary. With AppSource, Dynamics 365 cloud users have almost limitless opportunity to modify and extend the functionality of their solution, without having to involve developers or ISVs.
What is the Common Data Service for Apps and how does it affect Dynamics developers?
The Common Data Service for Apps is a back-end platform that allows users to quickly integrate programs, build new custom applications, and create automated workflows. It does this by providing a secure, centralized, repository for data management templates, which allow data from any source can be used by other applications.
The CDS for Apps provides a digital space in which data from previously disparate applications can be stored and standardized, meaning information can be unified across a number of programs. It's this service which allows apps to "communicate" and share information, even if those apps record and process data differently, removing incompatibility issues and breaking down silos.
The CDS makes it easier for developers to set up new tools, and administrators and so-called citizen developers without coding experience can use it to create workflows and integrations without the need for custom development.
Though it goes a long way to making integration simpler, the CDS is not a replacement for xRM development platform. It certainly doesn't render CRM developers obsolete, rather it frees them up from building the same integrations repeatedly, allowing them to focus on developing and upgrading more high-level, sophisticated integrations that the CDS can't process.
What is the Common Data Service for Analytics?
The Common Data Service for Analytics is a new service that aims to help businesses gather, digest, and utilize the data that they generate and manage every day. The service will make it easier for organizations to derive insights from data found across their apps and other sources, giving them a centralized, comprehensive picture of their business to analyze.
Like the CDS for Apps, the CDS for Analytics will provide users with a connective pool of standardized data pulled from multiple sources to draw on, and allow Power BI to more easily connect to and share data with third-party apps.
These analytical solutions will be set up to read and report on these standardized batches of data to provide comprehensive and consistent analysis. Power BI Sales Insights, for example, will amalgamate sales data and offer coherent, comparable insights — such as which leads and opportunities are at risk, and where salespeople could better spend their time — no matter where the data it's scrutinizing was originally pulled from.
Power BI Insights for Sales and Power BI Insights for Service, the first apps to utilize the CDS for Analytics, are now live. More Power BI Insights apps tailored to areas such as marketing, operations, finance, and talent are scheduled to follow soon.
What is Microsoft PowerApps?
Powered by Dynamics 365's Common Data Service for Apps, PowerApps allows organizations to create their own responsive business applications with the click of a button. Employee engagement surveys, cost estimators, budget trackers, to-do lists, booking apps; these can all be created for web and mobile without the need for coding knowledge or input from developers.
PowerApps' drag-and-drop interface enables anyone to build and launch richly functional, professional apps without writing a single line of code. The apps can be easily integrated with Office 365 and Dynamics 365 to gather and utilize business data, and help engage customers.
What is Microsoft Flow?
A sister-service to PowerApps, Microsoft Flow uses the same Common Data Service for Apps to help users build automated workflows that take care of repetitive administrative tasks.
There are already thousands of ready-made workflows — digital sequences that trigger predefined actions when certain activities occur — for users to take advantage of, from creating CRM leads when someone tweets a particular word or phrase, or tracking Outlook emails in an Excel spreadsheet, to sending an email to a group when a data alert is triggered in your analytics.
These workflows can be used to connect your Microsoft services to third-party apps and programs, without the need for complex custom integrations.